WIN Swift & Shift Couriers Series 2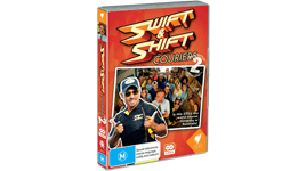 To celebrate the release of Swift & Shift Couriers Series 2 on DVD we're giving you the opportunity to win one of 10 copies.
Swift & Shift Couriers Series 2 is the hilarious comedy that parodies the people, the politics and the outrageous events of a working-class business.

With burning desire to bring Keith (Ian Turpie) and 'Swift and Shift Couriers' to a bloody end, Amanda (Amanda Keller) sets up a rival courier depot that books jobs through a call centre in India and imports their cheaper drivers who - on tuk tuks - run the jobs in Australia!

It's the usual disasters, stuff-ups, crazy driving and familiar faces - only this time there is also the animosity between courier depots that have constant run-ins and, well, the odd scuffle. Mario (Paul Fenech) is still stalking Melissa (Melissa Tkautz) in the hope of winning her back and last, but not least - someone at 'Swift and Shift' is getting married, and everyone is attending…

Release date: 05.10.11

RRP: $29.99

Comp closes: 10am 07.11.11

Winners will be notified by email

Read terms and conditions

To enter, simply complete your details below.

Good luck!


top