RocKwiz Live Tour ticket giveaway!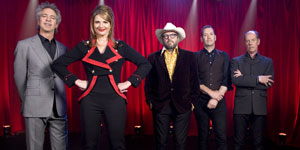 In the mood for a gig? WIN tickets to the RocKwiz Some Kind of Genius Tour!

RocKwiz is going back on the road with the RocKwiz Some Kind of Genius Tour nationally in August, September and October and we have 5 double passes in each city to giveaway.

Julia Zemiro, Brian Nankervis, Duguld the human scoreboard and the RocKwiz Orkestra will be bringing RocKwiz to life at the below locations for an energetic night of musical madness and comedic shenanigans.

Expect the unexpected when the RocKwiz team unleashes its unique brand of musical magic. High profile stars and up and coming artists will rub shoulders with contestants selected from the audience.

We have 5 double passes in each of the following cities to giveaway:

Sydney, Hordern Pavilion - Friday 31 August
Melbourne, Festival Hall - Friday 12 October
Darwin, Convention Centre - Friday 24 August
Canberra, Royal Theatre - Friday 7 September
Adelaide, Entertainment Centre Theatre - Friday 14 September
Brisbane, Convention and Exhibition Centre - Friday 21 September
Perth, Convention Centre Riverside Theatre - Friday 26 October
Hobart, Wrest Point Entertainment Centre - Friday 5 October



Stay in on Saturday nights as RocKwiz celebrates its 10th season - premiering this Saturday 7 July at 8.30pm.

The new season will feature the usual display of rock nerdery, comedy, and music trivia as the music world's cream of the crop and contestants drawn from the audience play off for nothing more than the honour of winning.

Competition is now closed.

The lucky winners are:

NSW:
Simon Bailey
Rhema Issa
Dianna Pecherczyk
Anne Salway
Vi Lam

ACT:
Brian Dunne
Peter Wearden
Tony Balistreri
Emma Cardell
Kaet Lovell

VIC:
Bianca-Jade Moore
Ainsley Rayner
Robert Edmonds
Andrew Pranckunas
Peter Brown

NT:
Elisabeth Crocker
Dean Harrison
Aggie Wegner
Helen Marris
John Bateman

SA:
Evelyn McGrady
Carole Grubisa
Marina Grivas
Kara Turner
Dina Marangon

QLD:
Jason Holmes
Nigel Jay
Rhian Borowicz
Toni Back
Simon Warburton

WA:
Carolyn Rose
Jen McKay
Colin Relf
Julia Mateljan
Karen Parke

TAS:
Rowan MacDonald
Stella Smith
Quentin Moncrieff
Rebecca Ridgeway
Steve Longley

Terms and conditions.


top