Win Go Back To Where You Came From Series 1 on DVD!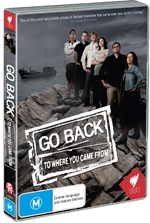 The most ambitious documentary series ever made, brought the hottest debate in Australia from the front page of the newspaper into living rooms around the country.

Six ordinary Australians agree to challenge their preconceived notions about refugees and asylum seekers by embarking on a confronting 25-day journey. Deprived of their wallets, phones and passports, they experience what life is like for asylum seekers from Kenya, Burma, Jordan and Iraq.

Buy series one on DVD here.

RRP: $29.99

Competition closes: Monday, 3 September at 11.59pm

Winners drawn: Tuesday, 4 September at 9am and notified by email.

To enter, simply complete your details below.

SBS Terms and Conditions.


top