Here's how to make sure you can keep watching SBS - or find our channels if you've lost them.

Retune Information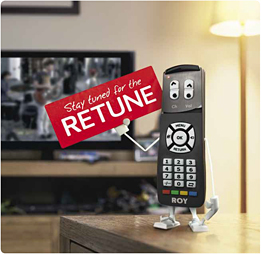 The SBS DTV Signal around the country is being upgraded to provide more bandwidth for better quality pictures and sound as the final step in the move to digital-only TV. These changes will occur progressively in most regional areas of Australia from May to November 2015.


What do I need to do? – If you have lost the SBS signal, you will need to retune your TV.


How do I retune? – Consult your user manual or for basic instructions click here.


Apartment and other shared antenna systems – If you receive TV in a building with a shared antenna like a hospital, motel, office or apartment block you should check with your building manager or body corporate for more information if you are having problems retuning.


If you own or manage a building with a Master Antenna TV system,
click here
for information.
How to do the Retune
The instructions below are basic and not related to any specific receiver brand. Menu descriptions and labels may vary depending on your equipment.
Auto Tuning
Menu or Home button on remote control
Press
OK
Settings or Setup
Press OK
Digital Setup
Press OK
Auto scan or Auto retune
will appear,
Press OK
It will take few minutes to do the re-scan. This will search for the channel and restore it in your Digital TV or receiver.
Press Exit
FFor specific retuning instructions, consult your equipment manual. For more information or assistance regarding retuning your TV, please contact the SBS Reception Advisory Line on 1800 500 727.
Information for owners or managers of Multi Dwelling Units (MDUs)
If you own or manage a multiple dwelling units (MDU) then you may need to have your distribution system checked to ensure it can accommodate the bit rate change.
Contact your installer or system maintainer as your system will require adjustments. If you choose not to do anything then viewers in the MDU may lose all the SBS channels after the upgrade.
We suggest you discuss your options as soon as possible to ensure the availability of an installer as there may be increased demand in some areas for installers to check shared systems in the lead up to the upgrade.
top