Every Phone has its place - This one is Social
With the dominance of the iPhone and Blackberry's in the 'Smartphone' marketplace, it is hard to wonder sometimes why some other companies continue to bother! But then you realise, the decision to upgrade, and the choice you make is ever so personal, which is why it is at times very hard to understand the logic behind some people's decisions let alone those of the manufacturers.
Last week, Motorola launched their 'Motorola Blur' concept with much fanfare in Sydney. Sitting at the launch I was quite impressed by the concept of how this software - not just a device - could unite my 'social networking' life. How?
Well, as it was explained, "Blur" is a platform, once you join (Free - at the moment anyway), Blur knows your Twitter, Facebook, Gmail, Hotmail and other details as you enter them - so no matter where you go you'll only ever need your Blur password on your Motorola device to have these services at hand.
Lose your handset, and just enter a single Blur password on the new device and you're up and running again. You can use the MotoBlur website to locate a lost handset and delete the data from it if you think it's permanently gone walkies...
So, that's all very cool yeah?
Add to that the Android operating system which is in my opinion the slickest and best Phone OS available and you've got yourself a real option here.
Optus are pulling out all stops as the exclusive launch network for this concept. Through two devices, the DEXT and Backflip, you can get unlimited social networking access and a stack of other data on their plans at various levels under $100.
I've been using the DEXT for a week or so now, and find it very impressive.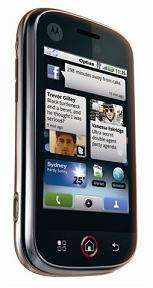 Here's how good the Social Networking integration is: You can view your contacts A-Z as on any phone. But you can also view them by status update with the most recent at the top, and you can view your own history of actions not just through a list of calls, but sms, email, Facebook messages and more. It's excellent integration.

Plus, when a contact rings - their most recent status is displayed. Very simple, yet unique integration.

Right away, I can tell you I will be reverting to my Blackberry - but it's not through any fault of the DEXT. I have two key needs - Fast Push email - and nothing does this like the Blackberry. Secondly the keyboard and form factor of the Blackberry is something I've used so much that it is just too hard to type on a wider keyboard which you get in the physical keyboard of the DEXT.

That aside, this is one of the best slider's I've used. The arrow and click navigator on the left of the keyboard is very useful for people not used to a touch screen environment, and the keys on the Dext are formed so you can feel each single on.

The Backflip is a different story, with the keyboard on the back of your phone and inactive until you 'flip' it around. For this reason the keys are a little more flat and a little harder to make out without looking.

Plenty of people will say that running an 'older' version of the Android Operating System (1.5 instead of 2.anything) is a bad thing - but frankly, don't worry - unless you are a hard core tech geek you'll just be impressed by Android and will fall in love with it.

5 home screens, slide between them, press to add a widget like the clock, email notification, twitter status notifications or news and you're really flying.

I love this style so much more than the iPhone and Blackberry which just show you icons like your Windows Desktop - that is so 1990! Android allows your home screens (desktop) to have interactive content on it and that is where this device, and the Blur platform that sits above Android really do come into play.

In the end, the look and feel of the device alone will sway some people one way or the other. Apart from my thoughts above, I do think the DEXT is a little heavy and perhaps could be a tad smaller as a point of difference but perhaps that's for the future.

Bottom line: If you are a heavy user of Social networking - Twitter, Facebook etc, I think the Motorola Blur platform, on the DEXT or Backflip handsets through Optus are well worth considering.

If you're an email addict stick to the Blackberry, nothing beats it. If you love your 'apps', games and things, the iPhone is your leader (Android is doing a good job, but the apps just aren't the same yet nor on the same quantity). But if Social networking is key, the integration offered here on Motorola could just keep the company from disappearing into the abyss. Check it out!

Let me know your thoughts in the comments below, and as always, you can follow me on Twitter @trevorlong
Previous 10
| Next 10
About this Blog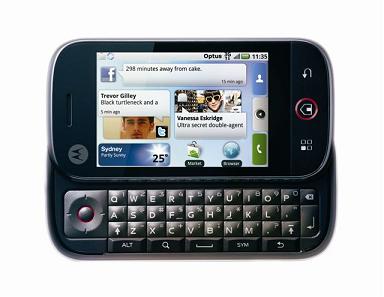 TV
Food
Films
Documentary
World News Australia
Sport
About SBS
Business
Internet and Technology
Cycling Central
Festival Reports
Tour De France