What in the world are you eating?
Makin' Bacon: A guide for city slickers
15 October 2008 | 9:50 - By Phil Lees
I thought that I'd write a follow-up post on David Shennan's Paddock to Plate blog, on making bacon given that I'm pretty keen on making bacon myself, and really, anything thing at all that involves pork belly.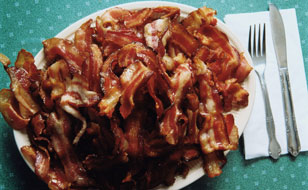 The only real difference is that I live in an inner city apartment and don't grow my own pigs, lest I scare the neighbours and void my lease.
Globally, bacon is one of the few meats in the world that gets treated by the futures market as a generic commodity. Futures contracts for frozen pork bellies have been traded in 40 ton lots on the Chicago Mercantile Exchange since 1961 and was the first frozen meat to be treated as thus.
Due to the high fat content, bellies can be frozen and stored for up to a year before they're eventually processed, which makes them a good candidate for being traded. In December 2006, for example, there were 30.5 million pounds of pork belly in storage in America. The bulk of this belly is cured to become bacon. Prices of the belly fluctuates as Americans eat more bacon in summer and less in winter. Bellies make up about 12% of a pig's live weight.
There is something oddly grim about a single cut of meat being frozen and thoroughly outlasting the rest of the animal. It is an equally grim dividend of the industrialisation of the food system that the bacon you could be eating came from an animal that died one year earlier.

Being one of the processed meats that seems to inflame Western passions (there are innumerable websites that profess a single-minded love for bacon), there doesn't seem to be too much care as to where the industrially-made bacon is coming from. Although I'd like to say that the original driving force behind me starting to make my own bacon was fear of industrial bacon's origins and some deeper sense of ethical eating, it wasn't at all.

I was just curious to see if bacon was as easy to make as I had read. It really is.
All you need to make bacon is pork belly, 50 grams of curing salt (sodium nitrite, 6.25%), half a kilo of regular salt, a quarter of a kilo of sugar, a Ziploc bag, and a refrigerator (in a warm climate).

Mix the salts and sugars, then dredge the pork belly until it is covered, Ziploc the belly into the bag, then place in the fridge. Flip the bag daily for a week. Take the pork belly out of the bag, wash off the now slimy curing scum and bake in the oven (if you don't have a smoker) at 100C for around 2 hours.
Out comes bacon that you can trust.
top
Join the discussion
About this Blog
A blog about what the world eats, when and where it eats it, and why it matters to us all. Only much less ambitious than that sounds and with more excruciating puns.

Phil Lees grew up in rural Victoria, the first generation in his family to not have lived on the farm and thereby not slaughter their own meat.

In 2005 he moved to Cambodia and started the nation's first food blog, Phnomenon.com, named after the best pun that he has ever made. It turns out that Cambodian food is delicious and unlike the warnings in most guidebooks, is not likely to kill you with any immediacy. Gridskipper called him a "national treasure". Lonely Planet's Greater Mekong guide called him "the unofficial pimp of Cambodian cuisine". The New York Times laughed at a funny hotdog he saw.

Phil makes a mean sausage, a hoppy pale ale, a modest laksa. He owns three barbecues and is in the market for a fourth.

TV
Food
Films
Documentary
World News Australia
Sport
About SBS
Business
Internet and Technology
Cycling Central
Festival Reports
Tour De France