What in the world are you eating?
How influential are Australian food blogs?
29 October 2008 | 21:10 - By Phil Lees
A discussion on the influence of Australian food bloggers.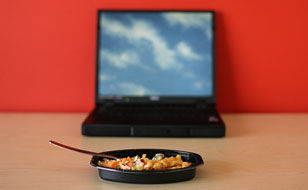 A few weeks ago, SBS Food featured an article entitled Everyone's a Critic , a precursory glance at global food blogging. Everyone is a critic it seems, except Australians. Duncan Markham, who blogs at Syrup and Tang mentions:

"Here, on an Australian food website, is an article that appears completely ignorant of the Australian food-blogging scene. It dwells on many of the international names. It features a mildly interesting interview with an Estonian blogger, yet there's no Australian blogger quoted."

(Mouthful rated a post-publish mention. Paddock to Plate didn't). It's fairly common for other food writers and editors in Australia to overlook the Australian food blogging scene as a credible source of food criticism or recipes. So why do local food blogs hold so little sway over the local offline media?
It's not as if there is a lack of vigour in the local scene. Here is my list of the first two hundred Australian food blogs that I could find, most of which are posting what they eat at least on a monthly basis. As a list, it is not exhaustive or even definitive – if I've missed you, feel free to leave a stream of unadulterated invective in the comments.
Or more conveniently, a URL to your blog.
For all the recent hype about blogging being "so 2004 ", compiling the list made me realise the real health and variety of local food blogs ranging from professionally curated and edited to utterly shambolic. (My favorite new find is Pictures of everything I eat, if only for the lack of variety and volume of chips that Steve eats). The sheer diversity puts the parochial and celebrity-obsessed focus of offline food media in Australia to shame.
This is not to say that there is any necessary opposition between writing for offline and online food media. Apart from me, there are professional food writers aplenty also blogging about food in Australia. Ed Charles (who also occasionally contributes to SBS and regularly at Melbourne's Herald Sun newspaper) writes over at his own blog Tomato. The aforementioned freelancer Duncan Markham writes at Syrup and Tang. Deputy Editor of Sydney Morning Herald's Sydney mag Stephanie Wood pens her thoughts on food at The Elegant Sufficiency.
Food blogging and writing about food in any other medium are not mutually exclusive in Australia, however, the relationship remains combative. For example, in early September, ACP magazines ordered local blogger Not Quite Nigella take down republished recipes from Women's Weekly instead of embracing them as a promotional tool for the mag's cookbooks. You only need to read through the comments to get a feel for the sort of public relations damage this does to an established magazine.

Part of the issue is that most food bloggers are not in the business of peddling influence. The very last concern of the average food blogger is how their work impacts the food industry: their commitment is to their immediate readers and commenters. That commitment is how bloggers maintain an audience.
With a smallish population like Australia, it is difficult to generate a critical mass of readers to rally behind you and even more difficult for the average offline journalist to assess how influential any individual blogger is without immersing themselves in the field. More generally, Australia is about five years behind the rest of the world in accepting blogs as a legitimate source of news.
top
Comments (8)
Join the discussion
About this Blog
A blog about what the world eats, when and where it eats it, and why it matters to us all. Only much less ambitious than that sounds and with more excruciating puns.

Phil Lees grew up in rural Victoria, the first generation in his family to not have lived on the farm and thereby not slaughter their own meat.

In 2005 he moved to Cambodia and started the nation's first food blog, Phnomenon.com, named after the best pun that he has ever made. It turns out that Cambodian food is delicious and unlike the warnings in most guidebooks, is not likely to kill you with any immediacy. Gridskipper called him a "national treasure". Lonely Planet's Greater Mekong guide called him "the unofficial pimp of Cambodian cuisine". The New York Times laughed at a funny hotdog he saw.

Phil makes a mean sausage, a hoppy pale ale, a modest laksa. He owns three barbecues and is in the market for a fourth.

TV
Food
Films
Documentary
World News Australia
Sport
About SBS
Business
Internet and Technology
Cycling Central
Festival Reports
Tour De France