Keep on marketing
31 October 2008 | 17:37 - By Stefano Boscutti
Attendees at the 98th annual meeting of the Association of National Advertisers in Orlando, Florida, found themselves debating the pros and cons of spending marketing dollars in trying economic times.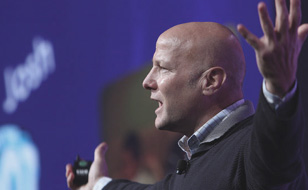 Whether the members of the association - 400 companies that together spend an estimated $100 billion a year on advertising and other forms of marketing - are willing to stick to the spending plans they made before the globe went mad is a crucial question. If marketers cut budgets, that could intensify the recent sharp downturn in consumer spending. Conversely, by maintaining - or increasing - spending levels, they just might shorten the length of whatever recession might be coming (if it is not already here).

http://www.nytimes.com/2008/10/20/business/media/20adco.html
top
Comments (1)
Join the discussion
About this Blog
New New Media looks at how our mediascape is exploding to bits. How the latest technology and the internet are changing the way we live, work and play. How the latest media is shaping us all.

Stefano Boscutti is an executive creative director and strategist. He's like a better looking version of Todd Sampson. He also has an abiding faith that stories and wordplay (and not powerpoint presentations) will change the world.
TV
Food
Films
Documentary
World News Australia
Sport
About SBS
Business
Internet and Technology
Cycling Central
Festival Reports
Tour De France