Day 3 - LA
25 September 2008 | 11:00 - By Charles Firth
It was early in the morning, and I had a bit of a nose sniffle. Unfortunately nobody on my team had any sudafed, so I went out on the streets of downtown of LA and asked around to see if anyone had any drugs.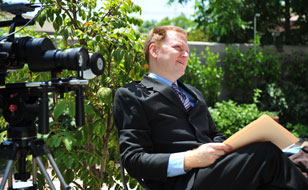 Apparently this is not something a white man should do in the vicinity of where most of LA's crime statistics originate. The security guard at the hotel - a man with a bald head, long face, and hideous moustache - who is at least twice as scary as the man who mugged me - said it served me right. He started lecturing me about the perils of ignoring "moral hazard".

Meanwhile, the campaign has seriously veered off course for John McCain this week with a large dip in the polls (Obama is up nine points). John McCain's new found love of regulation - after decades of trying to scrap most of it - has outraged the elites in Washington who believe in "holding people to their words". Typical.

But he's made a massive strategic blunder after he threatened to cancel several appearances - including the first presidential debate. Although for me - the bigger outrage is him cancelling his appearance on Letterman. The tactic seems to have seriously misfired. Obama is not that good at debating anyway - and he'll be able to continue selling his message direct, while McCain travels back to Washington in one of his 13 cars and bunkers down in one of his eight homes.

McCain's panic here is so real you can almost cut it with a knife. Perhaps because it's a tragic event he can completely empathise with. Millionaires are in trouble -- that's something he can relate to. His campaign team are treating it like it was some sort of Hurricane Katrina for the rich.

Meanwhile, I've decided to cancel all my filming engagements for the rest of the week, too. Not so much in sympathy for Wall Street, or out of panic about being mugged, but just because I can't be bothered.

So, I don't have a wallet, and I'm basically dependent on the crew to be able to bail me out of this situation. But since I'm the only one who signed the rental agreement on the car, I think we'll be able to work something out. Mind you, I think I would prefer it if my trip was a little less metaphorical.

top
Join the discussion
About this Blog

Charles Firth Charles Firth's months in America taught him many things – that a country that touts democracy doesn't practice it, that the spectacle is more important than the message, that 54 oz Slurpees don't mix well with expensive and vital equipment. It was a long, arduous, uphill battle, but he had a story to tell and through it all persevered with a singular goal in mind – meeting George Negus on the publicity tour.
TV
Food
Films
Documentary
World News Australia
Sport
About SBS
Business
Internet and Technology
Cycling Central
Festival Reports
Tour De France