Day 5 - Nich's Report
27 September 2008 | 11:00 - By Charles Firth
More from director Nich...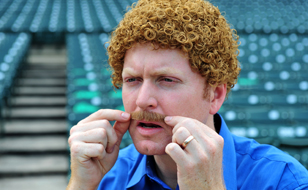 6:00 am - First day of shooting today! We've had the first few days off to knock over the jetlag. I'm really excited - we've got a lot to get through so I'm keen to sink my teeth into it. I'm off to wake Charles now, I'll keep you guys updated.

6:04 am - Charles thinks we should be well rested for our first day, so he said to give him another twenty minutes and he'd be ready. Good point - we don't want him looking exhausted on camera.

6:55 am - Still no word from Charles, he's probably getting dressed.

7:30 am - Watching a rerun of Cheers. Great show.

8:03 am - So Charles just called, time to move on out!

11:34 am - Shooting outside of a public school here in LA, one line, should breeze through it.

12:59 am - Still at the school, Charles said he just needs to find the character. He's really method like that. Old-school.

2:26 pm - I think he just must be jet-lagged.

3:01pm - Wrapped the school! Took longer than expected but I think it's worth it. When he nails it, it's like watching DeNiro. Who Charles said he's also worked with, which is cool.

5:14 pm - Outside of the Hollywood sign - awesome! About to shoot a PTC (piece to camera).

5:15 pm - Out of tape.

5:58 pm - Got some more tape.

6:55 pm - Sun's going down, we need to hurry with this set-up. Charles says it'll be OK though, we can fix it in post.

8:30 pm - Charles and the crew are having dinner - I thought I'd push on and get some LA cutaways.

10:13 pm - Just got back to the hotel. I think everyone's actually gone to bed. I'm going to import this stuff and hit the sack myself.

3:59 am - Just finished importing. I'm a bit exhausted, but it's probably just the time difference. I'll record a quick video log and go to bed. Talk to you all later.


top
Join the discussion
About this Blog

Charles Firth Charles Firth's months in America taught him many things – that a country that touts democracy doesn't practice it, that the spectacle is more important than the message, that 54 oz Slurpees don't mix well with expensive and vital equipment. It was a long, arduous, uphill battle, but he had a story to tell and through it all persevered with a singular goal in mind – meeting George Negus on the publicity tour.
TV
Food
Films
Documentary
World News Australia
Sport
About SBS
Business
Internet and Technology
Cycling Central
Festival Reports
Tour De France