Day 8 - Palm Springs
30 September 2008 | 11:00 - By Charles Firth
So, I'm half way between Los Angeles and Phoenix as me and my crew travel across America making this documentary for SBS about the US elections. And we've got a flat tyre (or, as they spell it here, tire).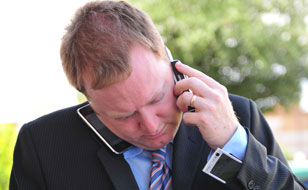 Before we left, the guy who we got the car off said that we should pack a spare tyre, and the law is that we should have had a spare tyre. But we decided to sell the spare tyre and spend the money on caviar and hookers. So we need to be bailed out to buy a new tyre. I've emailed my executive producer, Piers, and asked him to forward me $700 billion. It's not for me it's for the good of the production, of course.

The $700 billion bailout of the banking industry is a welcome relief to all the bankers, stockbrokers and high financiers we've met at truckstops along the way on our roadtrip. It's great to see such a bold stop-gap measure. After all, such injections of liquidity are not new.

On 26 March 1929 seven months before the crash of October 1929 Wall Street faced a liquidity crisis. Cash was tight as banks refused to lend to other banks overnight in case they were caught without enough cash when everything imploded. Faced with the prospect that the stockmarket was facing a rout, he chairman of the New York Federal Reserve Bank Charles E. Mitchell, wisely decided to intervene: "We feel we have an obligation which is paramount to any Federal Reserve warning, or anything else, to avert any dangerous crisis in the money market."

Thus, he injected an unprecendented amount of money - $25 million - into the markets. It was a bailout that promised to last forever. It would help the little people who had their life savings caught up in the ravages of the liquidity crisis.

Seven months later the money, of course, disappeared with the crash.

I hope Piers forwards me the money. It'll be our last request for cash. Ever. I promise.
top
Join the discussion
About this Blog

Charles Firth Charles Firth's months in America taught him many things – that a country that touts democracy doesn't practice it, that the spectacle is more important than the message, that 54 oz Slurpees don't mix well with expensive and vital equipment. It was a long, arduous, uphill battle, but he had a story to tell and through it all persevered with a singular goal in mind – meeting George Negus on the publicity tour.
TV
Food
Films
Documentary
World News Australia
Sport
About SBS
Business
Internet and Technology
Cycling Central
Festival Reports
Tour De France