Day 12 - Nich's Report
04 October 2008 | 11:00 - By Charles Firth
Phoenix, Arizona is probably the hottest place in the history of the universe. My shoe got stuck to melting tar on the road, and that was at 5:30 this morning. I think I saw fire melt today.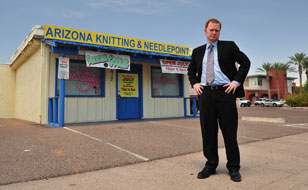 The crew's a bit restless at the moment I think, which is understandable. Tempers run high in a state where you get sunburnt inside at midnight. I think it's affecting Charles the most - he has to wear that suit all day so he'd be twice as hot as any of us. He's been lashing out over the last couple of days, but it's all been in good fun. He has a biting sense of humour, so it's actually quite fun to watch. As long as it's not directed at you. He keeps calling me Sarah and laughing hysterically. I must be missing something - it's probably a metaphor or something.


top
Join the discussion
About this Blog

Charles Firth Charles Firth's months in America taught him many things – that a country that touts democracy doesn't practice it, that the spectacle is more important than the message, that 54 oz Slurpees don't mix well with expensive and vital equipment. It was a long, arduous, uphill battle, but he had a story to tell and through it all persevered with a singular goal in mind – meeting George Negus on the publicity tour.
TV
Food
Films
Documentary
World News Australia
Sport
About SBS
Business
Internet and Technology
Cycling Central
Festival Reports
Tour De France