Day 38 - New York
30 October 2008 | 11:00 - By Charles Firth
Great news! I'm going to get a one on one meeting with George Bush. Turns out he's got his hands pretty free at the moment. Except for the bombing Syria - but that's just a bit of crazy business. You know -- might as well use your executive powers to do something fun in the final days in office. Well that's what Dick's told him, anyway.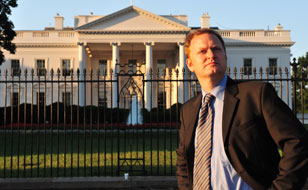 Obama now has a 12 point lead on average in the states that Kerry took in 2004, according to Zogby's daily tracking polls. He's 8 points ahead in Virginia (where Sarah Palin has been mostly campaigning), and 5 points ahead nationally. And he has a 19 point advantage on voters who have pre-polled.

The race is narrowing, but it seems increasingly likely Obama will be the next democratic President to be ahead in all the polls but then mysteriously not elected on the actual polling day because of thousands of unanticipated votes for Republicans in Ohio and Florida, using their untraceable computerised voting systems. Or least, that's where the super-smart money is going.

The big news today is the half hour paid advertorial television program that Barrack Obama is running on most of the major networks at prime time tonight (8pm). I think this bodes well for the American political system. I've always thought that purveyors of advertorial content should be running the country. I imagine people like Tony Robbins and that guy who can bust abs with less than eight seconds work out per day are watching closely. If this Barrack Obama gets up, expect to see the Sarah Palin Workout Video coming to a late night television spot near you.

Talking of which, many people are saying that Sarah Palin has "gone rogue". To be fair, she was actually brought in as a "maverick" choice, so it might just be a cunning Machivellian plan by the McCain campaign to keep some distance between him and his far-more-outrageous-yet-far-more-popular-with-the-Republican-Party-base-(read-nutjobs)-running-mate.

We were at a rally with her as the main attraction yesterday, and one guy started yelling "Sarah 0-12" and then the whole crowd started yelling "Sarah 0-12". I'm not sure they realised that launching the 2012 Presidential campaign even before they've lost the last one is not considered the proper etiquette. And I'm certain they didn't realise that 12 doesn't need an 0 in front of it. But then, "Sarah '12" just doesn't have the same ring to it. Or does it?

Or perhaps they were just referring to how far behind she was in the polls.

top
Join the discussion
About this Blog

Charles Firth Charles Firth's months in America taught him many things – that a country that touts democracy doesn't practice it, that the spectacle is more important than the message, that 54 oz Slurpees don't mix well with expensive and vital equipment. It was a long, arduous, uphill battle, but he had a story to tell and through it all persevered with a singular goal in mind – meeting George Negus on the publicity tour.
TV
Food
Films
Documentary
World News Australia
Sport
About SBS
Business
Internet and Technology
Cycling Central
Festival Reports
Tour De France