Global Village takes us to the far corners of the globe where we will discover that the world really is an amazing place. Weekdays 6.00pm

Thalassa (meaning 'sea' in Greek) brings you stories of the seas of the world and their effect on people and places from the four corners of the globe. Sundays 6.00pm

Chile's Ghosts of the Past
21 May 2009 | 14:37 - By Silvio Rivier
As a child growing up in Sydney I often heard my relatives talking about the old country and the oppression that people felt living under their leader, one Josip Broz Tito. The 'old country' was, the now non-existent, Federal Socialist Republic of Yugoslavia. As no-one in my family was a member of the ruling political party (apparently the vast majority of Yugoslavs weren't) I guess they needed to feel apprehensive if not a touch paranoid lest Big Brother was watching and listening to them. He did exist in the form of the state secret police.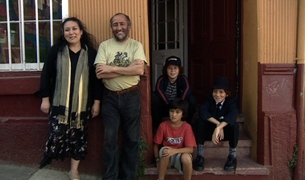 I recall how even in Australia they'd always feel apprehensive about speaking out against any issues lest Big B. was listening as in the old country people had been known to disappear overnight for saying things that were considered anti-state or anti-Tito or even making a joke about him. Ghosts of the past still linger or haunt many people who've lived through dictatorships.
One country which experienced a dictatorship much more severe than Tito's was Chile under General Pinochet. Who can forget (for those of us who are old enough to remember) the daily headlines which followed in the wake of Allende's overthrow in a coup which brought Pinochet to power and the disappearances and torture of citizens who spoke out against his tyranny?
Chile today is a thriving modern democracy but the shadow Pinochet cast during his rule is still visible here and there. If the family in our story is anything to go by it would seem that Pinochet's regime has made a new generation of Chileans much more aware and sensitive to human rights around the world.

If you asked an average 10 year-old child what matters to him he might say 'my skateboard, Play Station 2 or Ipod (or walkman)'. In our story you'd get these responses as well accompanied with a comment such as, "all bullfighters are cowards" followed by a detailed explanation of why this is so. This boy obviously researched everything there is about why bullfighting is such a cruel 'sport'. And he does what he can to stop it.
His younger brother also shows an awareness of the world beyond his years. I mean how many children do you know that rush home to watch the news of the world on TV? The things that matter to him are the "War in Iraq" the problems of "Bush the assassin" and the "economy and politics". His, not much, older brother also has his own web page chronicling the torture under Pinochet, a full listing of the locations where it took place and a list of proposals for compensation for its victims. Turn the page and he describes NIKE products and how, he states, "99% of its products are made in Indonesia" using child labour and paid a pittance while the big end of town gets fat on the profits.
I'm sure one of these boys could well grow up to be the next president of Chile. Their parents of course had a big influence on them. Both were party comrades and anti Pinochet activists during the regime. But a love story began to unfold between them which produced three sons who developed a humanity which belies their years. So in spite of the Pinochet's era it ultimately produced a new face of Chile which anyone with a respect for humanity, indeed all living things, would be proud of if this family is anything to go by.
top
Join the discussion
About this Blog
Join Silvio Rivier as he spotlights one of the episodes each week relating to cultures, traditions and lifestyles of people around the world.

Silvio Rivier has been an integral part of SBS since the station first went to air. He is currently the presenter, narrator and producer of the series Global Village.
TV
Food
Films
Documentary
World News Australia
Sport
About SBS
Business
Internet and Technology
Cycling Central
Festival Reports
Tour De France