Global Village takes us to the far corners of the globe where we will discover that the world really is an amazing place. Weekdays 6.00pm

Thalassa (meaning 'sea' in Greek) brings you stories of the seas of the world and their effect on people and places from the four corners of the globe. Sundays 6.00pm

Food and Wine Equals Culture
06 August 2009 | 0:00 - By Silvio Rivier
It should be no secret now that food and cooking programs (generally) rate well. Staggeringly well in one well publicised instance! So I am dismayed by the few people who complain about cooking segments in Global Village.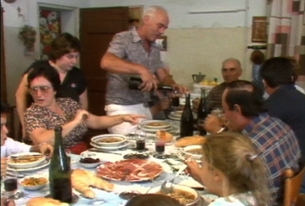 They argue that cooking segments have no place in this series which deals with faraway people, places, traditions and cultures. I'd argue that food is an integral part of a people's culture and history. Seeing how they prepare the food is no less so.
It is true that over the years much of the content in GV did not deal with cooking. That was purely incidental rather than a calculated decision by the SBS Program Purchasing Department to omit programs dealing with cooking.
Indeed the mainstay of GV was a series from France which dealt with people in faraway places. There were over a thousand of these short documentaries which would see it on air for at least three years, not counting the repeat screenings or 3, so it is natural that viewers, being creatures of habit, may have assumed that Global Village would continue in this mould.
As the years progressed and this type of series was no longer to be found in the international TV marketplace GV began to broaden its horizon and started to include programs devoid of people such as the long-running series featuring Word Heritage Sites. As we evolved, shorter series were acquired for inclusion. Some dealt with the horsemen of the world others concentrated on the surprising stables that are to be found globally. Another one focused exclusively on the big festivals that take place annually.
At the moment we are running a repeat series which looks at the Coastlines of Europe as seen from the air. Elsewhere we had short series dealing with Moroccan and Turkish cuisine and their relevance in their country's history and culture.
Then for something completely different we introduced a series of 36 episodes called, The Exccentriiiks, a Dutch co-production that featured zany, quirky and eccentric people of the world. It sat well in GV as it also dealt with people around the globe and the things that made them tick.
Then came two long running series that were, yet again, a variation on the Global Village theme; each one dealing with journeys around a country and featuring a potted history of each, sprinkled liberally with examples of its cuisine. These are the 'Flavours of Italy' and 'Flavours of France' series currently screening on Global Village in their repeat mode.
These series rate very highly for us, the French one more so as it is more recently filmed than the Italian one (although filmed before they introduced the Euro in Europe!). Nevertheless the food that's presented has always struck me as being an important and relevant part of that country's history and tradition. I mean, If I said "Pizza" would you think, China? Sure as eggs you'd think, Italy. And if I said, "croissant" I'm sure you wouldn't think Bulgaria but France. Get my point?
And for those of you, who still don't like cooking segments, be warned! The Flavours of Italy and the Flavours of France will dominate weekly from now until the end of the year. Not because we want to scare you off GLOBAL VILLAGE but because we have contractual rights to them and they must be screened before these rights expire.
Buon appetito!
PLEASE NOTE THIS EPISODE CAN BE SEEN ONLINE FOR A WEEK AFTER ITS TELECAST - click on VIDEOS on blue bar above.
top
Join the discussion
About this Blog
Join Silvio Rivier as he spotlights one of the episodes each week relating to cultures, traditions and lifestyles of people around the world.

Silvio Rivier has been an integral part of SBS since the station first went to air. He is currently the presenter, narrator and producer of the series Global Village.
TV
Food
Films
Documentary
World News Australia
Sport
About SBS
Business
Internet and Technology
Cycling Central
Festival Reports
Tour De France