Thursdays, 7:30pm on SBSONE

Episode 1: The Congolese
26 August 2009 | 0:00 - By Sean Connolly
The Congo is alive in Sydney! Sean Connolly recounts his experiences preparing and sharing a traditional Congolese family meal with the Ndayi family in the backyard of their Sydney home.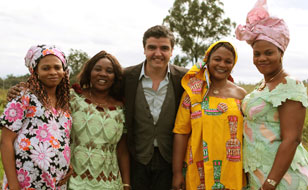 Isaac and Mbuyi lead me around the farm where Mbuyi grows traditional African produce.

Mbuyi, like many refugees, came to Australia with nothing, but he leased a field and is growing plants that are commonly used in Central Africa cooking. He hopes to develop the seeds and make a business out of it. I find the 'ngai ngai' leaf very interesting. It's the young leaf of the rosella bush and is an ingredient that I may well use in a couple of dishes in one of my restaurants.

Justine, Rachel and Stella are wearing beautiful traditional bright coloured dresses with matching headwear just as they would have worn back in Africa. They look absolutely stunning and when I first meet them I get the nervous giggles, they look so gorgeous I can't believe my luck. I am in the middle of a field in Doonside in the outer suburbs of Sydney, trekking through long grass with these beautiful Congolese families and I feel like I've been transported to the middle of Africa.

Back at Justine and Isaac's home, the girls show me a few of their favourite dishes. The dish I enjoy tasting the most is braised pumpkin leaf. It has a sweet flavour and nutty texture from the crushed peanuts and a last minute drizzle of Sierra Leone palm oil. Who would have thought it could taste so good.

I don't really know what to expect when Isaac takes me to buy the goat, and in the end it's hilarious. We arrive at the farm and are met by Shane and his dad who are from Queensland. His dad is wearing a 10 gallon hat but Shane is the star. There's nothing he doesn't know about goats.

He invites us into the paddock, but we have to wait in a holding shed while he organises the goats. The putrid smell of goat's urine is almost overwhelming. Apparently the billy goats spray themselves with their own urine to make themselves smell more attractive. It does't work for me, in fact I think I am going to vomit. Luckily Isaac and I are saved by Shane, who took us into the fresh air.

The billy goats seem quite agitated and not happy to see us at all. I have agreed with the director Ben that I will catch the goat myself even if I have to personally crash tackle it. But once I am in the pen I realise that these animals are not to be messed with and I decide to take a back seat and leave it to Shane the master shepherd to take control. The idea is to catch the goat by its tail first rather than the horns.

Apparently horns first could potentially do some serious damage, and I can see why when I see the enormous horns coming straight for me! When I recover I look up to see the same fear in the faces of the camera crew before we all burst out laughing.

Another filming day and unexpected experiences.

top
About this Blog
My Family Feast is a weekly half hour television show that will take us into the lives and cooking traditions of Australian immigrants and their families, as seen through the eyes of our host, award winning chef Sean Connolly.

Sean Connolly has had a passion for cooking since the day he enrolled as the only boy in his Yorkshire school's home economics class. Ever inspired by his grandmother's cooking, Connolly has become one of Australia's best chefs and recently opened his own restaurant, Sean's Kitchen, at Sydney's star city.
TV
Food
Films
Documentary
World News Australia
Sport
About SBS
Business
Internet and Technology
Cycling Central
Festival Reports
Tour De France