Thursdays, 7:30pm on SBSONE

Episode 7: The Burmese Kachin
08 October 2009 | 0:00 - By Sean Connolly
A close-knit community of Burmese Kachin immigrants invite Sean to witness a traditional ceremony and take part in the feast that follows.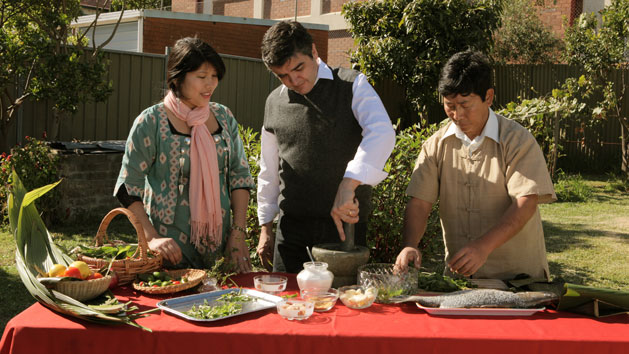 I found myself in another suburban garden with the most astounding array of herbs growing. Mr. Lamung's backyard was the size of a football pitch and it was behind a school so we had loads of school kids hanging over the back fence shouting and talking to us as we were trying to film.

In the garden there were herbs that I'd never tried or even seen before! There was some amazing stuff, but there was also this one herb that was so repulsive that I hope I never have to try it again. I don't know what they call it... but it's off. The smell was like a mix of ammonia and fish sauce, it was just 10 shades of wrongness. When it was raw it tasted so bad that I had to spit it out, but cooking it must have altered the taste because everything we ate that the herb was in tasted absolutely beautiful.

Walking around the streets of Auburn with a live chicken in a basket was heaps of fun. There I was walking down the street with eight Burmese in full costume, and my task was to carry a basket which had a live white hen in it. It was to be a ceremonial offering to the Kachin tribe.

This show goes from one extreme to the other – from line dancing to carrying livestock down the main shopping street and onto a bus in the middle of Auburn – I never thought I'd be doing anything like this! We had to catch the chicken first but it was so docile that it wasn't too hard. I've had more trouble catching my own chickens back home – I think the chicken might have been on valium. Just a joke – no animals were harmed in our show! We didn't eat the chicken that night – it was only there to lay eggs.

The women's outfits were amazing. So colourful and the handmade silver jewellery hanging around their necks was just very impressive. The food was great. What really took me back was the way the Burmese Kachin cooked their ox tongue. Back in Yorkshire, if we had an ox tongue, I would boil it and then remove the skin from around the muscle of the tongue (you can pull it off quite easily once it's boiled). But Sidney showed me an interesting technique, where first they freeze the raw tongue, and then cut the skin off the tongue with a knife. Then they thinly slice it and throw it on the BBQ. I'd never seen this before and texturally it was quite a bit different from boiled tongue because it was fried and eaten hot, as opposed to cold with a salad.

The fish prepared by Mr. Lamung was jam-packed full of ginger and spices but surprisingly when the fish was cooked on the BBQ they weren't as overpowering as I thought they might be. The flavours with the cooked fish were quite mild and went really well with the delicate texture of the barramundi. The rice wine, whilst palatable, wasn't my cup of tea. It was a bit too sweet and rather thick for my liking.

I really enjoyed the beautiful singing voice of the father. It was just spectacular. There have been so many highlights for me while we've been shooting this series.

top
Comments (1)
About this Blog
My Family Feast is a weekly half hour television show that will take us into the lives and cooking traditions of Australian immigrants and their families, as seen through the eyes of our host, award winning chef Sean Connolly.

Sean Connolly has had a passion for cooking since the day he enrolled as the only boy in his Yorkshire school's home economics class. Ever inspired by his grandmother's cooking, Connolly has become one of Australia's best chefs and recently opened his own restaurant, Sean's Kitchen, at Sydney's star city.
TV
Food
Films
Documentary
World News Australia
Sport
About SBS
Business
Internet and Technology
Cycling Central
Festival Reports
Tour De France