Getting to the bottom of the oil spill
25 May 2010 | 12:46 - By Matthew Hall
And so it continues. Over one long month since the Deepwater Horizon oil well blew out in the Gulf of Mexico sending, officials still argue over who is responsible.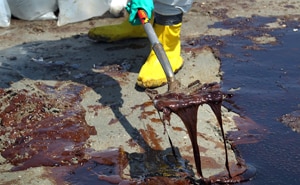 On Monday, in the usually sleepy coastal town of Galliano, Louisiana, federal government officials decided to call BP, who owned the well, a metaphorical taxi.

"We will keep our boot on their neck until the job gets done," said Interior Secretary Ken Salazar told the Daily News.
"This is a BP mess. It is a horrible mess. It is a massive environmental mess."
The oil giant, the fourth-largest company in the world, would be held accountable "both civilly and in whatever way is necessary and we will not rest until the job is done.

"Under the law," said Salazar, "BP is the responsible party. BP is charged with capping their leaking oil well and paying for the response and for the recovery without limitation."

Homeland Security Secretary Janet Napolitano announced at the press conference, intended to apply more public relations pressure on BP, that the government intended to see the oil company fulfill its moral and legal obligations.

"It's not until this well is sealed and this ocean in this area is cleaned up and the claims repaid that this incident will be deemed over," Napolitano said.

The message was relentless.

"We are going to stay on BP and stay on this until this gets done."

A day earlier, Salazar had visited BP's US headquarters in Houston. From the sound of it, this would not have been a happy meeting.

"I am angry and I am frustrated that BP has been unable to stop this oil from leaking and to stop the pollution from spreading," Salazar said afterwards.

"We are 33 days into this effort and deadline after deadline has been missed."

Meanwhile, a week after Fox News panelist Brit Hume bizarrely asked on one news show "Oil – what oil?", pretty much claiming there was no damage to coastal environments, the US Coast Guard announced 110 kilometres of shoreline were slicked and Louisiana's marshlands, formerly rich pickings for commercial fishing, were indeed oiled.
YouTube: Where is the oil?

"This oil threatens not only our coast and our wetlands, this oil fundamentally threatens our way of life in southeastern Louisiana," said Louisiana Governor Bobby Jindal.

Jindal, a Republican and once tipped as a possible challenger to President Obama, spoke at the same press conference as Salazar and Napolitano.

No doubt mindful of his local constituents, Jinadal used the platform to take pot shots at everyone involved in attempts to contain the spill, including the federal government reps standing next to him.

BP's chief operating officer, Doug Suttles, responded to criticism with a comment that was probably true but only underlined how the situation has sadly ballooned out of control.
CNN: BP vows to clean every drop

"I don't think anyone else could do better than we are," he said.

Which is a very valid point and possibly exactly the problem.
top
Comments (5)
Join the discussion
About this Blog
Matthew Hall presents a first-hand look at world events from a different angle. Follow @Matthew_Hall

Matthew Hall New York-based writer Matthew Hall has chased fugitives across Texas, been shot in outback Australia and has lunched with Liza Minnelli.

TV
Food
Films
Documentary
World News Australia
Sport
About SBS
Business
Internet and Technology
Cycling Central
Festival Reports
Tour De France