Australia not the only losers in Durban
16 June 2010 | 7:52 - By Matthew Hall
It is not unreasonable to assume that when a cop leaps from a police van and cocks his shotgun that bad things may be about to happen.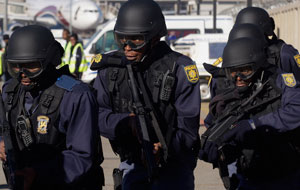 It is also not unreasonable to assume that when said cop, dressed in a paramilitary-style uniform, orders other officers carrying sub-machine guns into a football stadium that problems sometimes get worked out a little differently in South Africa compared to elsewhere in the world.
So it was in Durban, just after midnight, following Australia's opening World Cup game against Germany. Most fans and many journalists had left the stadium and only those reporters filing late stories from the stadium's media centre remained.
So most missed a maybe sadder story than Australia's 4-0 loss to Germany.
I had called quits on an exhausting evening just after midnight, heading outside the stadium to hopefully catch one of Durban's will-it-or-won't it-come shuttle buses back to South Beach.
But in the stadium's underground car parks, there was an incredible din: dancing, yelling, singing, shouting. This was a protest. Part-time match stewards, the people employed to get spectators to their seats safely, were complaining they had been short-changed by the stadium owners.
Promised around $200 for 19 hours work, some claimed, they had instead only been given around $30.
They wanted answers – or more importantly, money.
A police car had been surrounded in the car park and an officer was on the bonnet calling for calm. The crowd of about 300 was very angry.
More police arrived outside the stadium and quickly organised to quell the protest. They rushed in, confronted the protestors, and fired two percussive grenades.
How to Start a Stampede 101?
Bang!
Bang!
There was screaming, wailing, and 300 people now running fast through a confined space. Some ran toward the media centre looking for safety but a FIFA media officer was intent on locking the door, claiming he did not want armed police entering the room.
I have been in the middle of riots and police charges in Europe where there is a certain order to the disorder. But here, where police might operate with different rules and an emotional crowd likewise, the danger was not the protest but the stampede.
From the police point of view, the grenades did their job. The crowd shifted outside the stadium and onto a surrounding street. Out came tear gas to push the protestors further away from the stadium and up side streets.
One reporter from Associated Press followed, his presence along with that of a South American TV crew, maybe ensuring the situation did not deteriorate further for the protestors.
The police made nice. The protestors dispersed with a promise of further negotiations.
The issue was all in the contracts many had signed. A qualification would guarantee more money. But most people had not read the small print. Nor did they have "qualifications".
Unemployed and desperate for work, the World Cup coming to Durban was a way to make some money, finally.
But with so many unemployed, there are also a lot of people willing to work for cheap and with little interest in reading a contract's small print.
The World Cup had come to town but Australian supporters were not the only people left wondering if the hype was to be believed.

top
Comments (5)
Join the discussion
About this Blog
Matthew Hall presents a first-hand look at world events from a different angle. Follow @Matthew_Hall

Matthew Hall New York-based writer Matthew Hall has chased fugitives across Texas, been shot in outback Australia and has lunched with Liza Minnelli.

TV
Food
Films
Documentary
World News Australia
Sport
About SBS
Business
Internet and Technology
Cycling Central
Festival Reports
Tour De France