Thursdays, 7:30pm on SBSONE

Episode 8: Cause For Celebration
23 June 2010 | 0:00 - By Sean Connolly
The wedding of Shrabastee and Ankit was probably one of the most exciting and unusual weddings I've ever been to. Very colourful, very loud, it felt like organised chaos.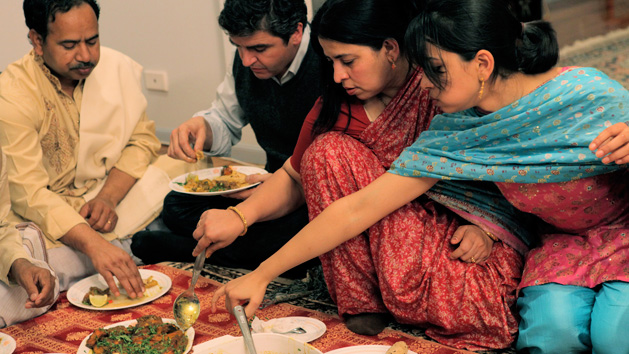 While the ceremony itself was going on there was a huge amount of chatter and heaps of people catching up. The ceremony went for three hours so I can understand why everyone couldn't keep quiet for that long! I found it interesting that the Bengali custom is for the groom to bribe/pay his way into the temple and can be blocked by the family of the bride until he has paid up. The bride's sister danced at the wedding, she was an amazing dancer. I was told by her mum that you have to be a good dancer otherwise you'll never get a husband.

I thought this family was really cool because of the way they had invested themselves in Australia. I felt like they were really giving something back to the community. Shrabastee's father is a mathematician and a teacher, and was telling me that when he takes classes he always makes it about how much love he can give the students and the love they give back to him. I think that's really cool. He had some interesting philosophies, and obviously the Indian culture's built on that.

He showed me a matchstick sculpture of the Taj Mahal which he had made. I loved it. It took 30,000 matchsticks to make. You wouldn't believe that such a small sculpture would use so many sticks of wood. It would have taken so much patience and time to plan and build it. Very impressive.

Being brought up in England, Indian food has always been one of my favourite cuisines. I grew up next to Bradford, which I think, has one of the highest Indian populations outside of India, so I'm quite partial to a curry. It's still a pleasure to see the way they combined their spices and how gently they cooked all their food. And it was interesting to me that Girija Mallik used onion puree (he blends his own onions in the blender) to give the sauce a rich velvety texture.

One thing that I've learned from the different people that I've met doing this program is that there's a mix of reasons why people learn to cook. It's not always handed down automatically in the first 10 years of your life from sitting at the end of the kitchen bench while your mum cooks. A lot of people have to learn to cook when they leave home or get married, and that's when they go back to their families to get the traditional recipes.

Often they are recipes handed down by relatives – out of practical necessity, rather than because of absorbing it when they're really young. And this was what I found with this family – now that Shrabastee's married she is in the process of learning these traditional recipes. She hadn't made those desserts before the day I came over. She told me she made that dessert for her mother- and father-in-law as an offering, to make sure they had a sweet future together … and I'm sure they will.
top
Comments (5)
About this Blog
My Family Feast is a weekly half hour television show that will take us into the lives and cooking traditions of Australian immigrants and their families, as seen through the eyes of our host, award winning chef Sean Connolly.

Sean Connolly has had a passion for cooking since the day he enrolled as the only boy in his Yorkshire school's home economics class. Ever inspired by his grandmother's cooking, Connolly has become one of Australia's best chefs and recently opened his own restaurant, Sean's Kitchen, at Sydney's star city.
TV
Food
Films
Documentary
World News Australia
Sport
About SBS
Business
Internet and Technology
Cycling Central
Festival Reports
Tour De France