America's ideological split
09 November 2010 | 8:50 - By Matthew Hall
It would be easy to think that the United States made a shuddering turn to the right after last week's mid-term elections. The truth is, it's taken about as much of right turn as it did to the left in 2008 when President Obama was elected. Not much.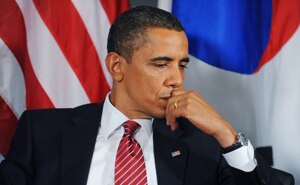 True, as Obama claimed, Democrats received a "shellacking" in 2010 but if there's one thing for sure about politics in the US, it is that political beliefs are so evenly split that it's an agnostic miracle anything ever gets done.

In recent times, margins between power and oblivion have appeared so close that the regular flip-flop of voters should come as no surprise. Remember 2000 when George W. Bush's election was decided by lawyers and judges rather than a ballot box where the "popular vote" went to Al Gore?
Overall, America appears split roughly 50-50 on political ideology which can make, depending on your level of patience, for a robust definition of democracy or frustration at the apparent inability to truly get things done.

However, this fascinating analysis from CNN has interesting data on who voted for what party in 2010 and why.
(Interestingly, if this election was about the economy, more people who lived in a household where someone had recently lost a job voted Democrat).

Do the 2010 results cast any light on the 2012 Presidential election? Maybe but possibly not. That result may well be decided by the ability of Obama (should he be the preferred Democratic candidate in two year's time) and his team in motivating young voters who were ambivalent about voting in 2010.

Seven days after the election, Republicans have quickly taken an opportunity to talk about what they plan to do in the next 24 months. On the list? Maintaining tax cuts for individuals who earn more than $250,000 and repealing healthcare reform.

Such a turnaround could motivate the 2010 stay-at-home voters (unlike Australia, voting in the US is not compulsory) or perhaps other interests could decide 2012.

Likely speaker John Boehner, now the most senior Republican in government (and third in line to the Presidency should a disaster befall the White House) has an interesting network to support.

As The Observer (a British newspaper, it should be noted, rather than US media) explained, the new face of American politics "is one of the most lobby-friendly politicians in Washington, located at the centre of a web of corporate cash and influence".
Boehner has resisted efforts to reform lobbyist influence and accepted cash from health insurance and tobacco companies. So maybe last week's elections weren't the win for the "American people" as Republican talking points chimed.

"We see that lobbyists as an industry are paid $3.5 billion a year to influence lawmakers," Dave Levinthal, a director at the Centre for Responsive Politics, told The Observer.

"They will have a greater opportunity to get their narrow special interests across than average Americans."

The more things change, the more they really do stay the same.
top
Join the discussion
About this Blog
Matthew Hall presents a first-hand look at world events from a different angle. Follow @Matthew_Hall

Matthew Hall New York-based writer Matthew Hall has chased fugitives across Texas, been shot in outback Australia and has lunched with Liza Minnelli.

TV
Food
Films
Documentary
World News Australia
Sport
About SBS
Business
Internet and Technology
Cycling Central
Festival Reports
Tour De France