Bush's tumultuous years in the Oval Office
16 November 2010 | 13:11 - By Matthew Hall
By any reasonable measure, the United States experienced a tumultuous eight years during George W. Bush's presidency.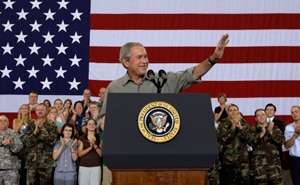 Perhaps the tone was set when his 2000 election was decided in court rather than by the ballot box. That, though, was just the beginning of two terms that saw a world changed by dramatic terrorist attacks, wars in Afghanistan and Iraq, a major city flooded to almost destruction, and the country's economy collapse on several fronts.

So, we should welcome Bush's memoir of these times, published last week, even if some wags wish to file the book in the "Crime" section of the stores selling it rather than the Biography shelves (former Australian Prime Minister's account of his leadership met with similar suggestion).

There's a good reason to read. In brief: what was Bush thinking?

What exactly was going through his mind when, on September 11 in 2001, joining kids reading in a school class he was told America was under attack?

"My blood was boiling," he explains, of that moment that changed the world. "We were going to find out who did this and kick their ass."

Well, of course.

Watching this seemingly mundane, but bizarrely compelling video of those moments, the President can have had no idea yet about the context of what was really occurring in New York City or exactly what would happen next in a larger context.

Bush writes: "I looked at the faces of the children in front of me. I thought about the contrast between the brutality of the attackers and the innocence of the children. If I stormed out hastily, it would scare the children and send ripples of panic throughout the country."

(No jokes about that becoming a job for Fox News).

But, Bush also explains, the truth of his immediate silence was on the advice of press secretary Ari Fleischer holding up a sign at the back of the classroom that read: "DON'T SAY ANYTHING YET."

The worst moment of Bush's presidency was not any of the easy pickings available to his critics. It turns out that Kanye West, the entertainer who might see himself as the barometer of people in the street, accusing Bush of being racist in the aftermath of Hurricane Katrina is what rankles most.

What it all boils down to, though, is what happens after you leave office. Bush admits he ended up in Texas, walking his dog Barney, and picking up crap on his neighbour's lawn with a plastic bag like the rest of us.


top
Comments (1)
Join the discussion
About this Blog
Matthew Hall presents a first-hand look at world events from a different angle. Follow @Matthew_Hall

Matthew Hall New York-based writer Matthew Hall has chased fugitives across Texas, been shot in outback Australia and has lunched with Liza Minnelli.

TV
Food
Films
Documentary
World News Australia
Sport
About SBS
Business
Internet and Technology
Cycling Central
Festival Reports
Tour De France