Gay, straight... blood is still blood
21 December 2010 | 8:54 - By Matthew Hall
On March 21, 2003, Staff Sergeant Eric Alva was leading 11 fellow Marines into Iraq on the first day of the ground war.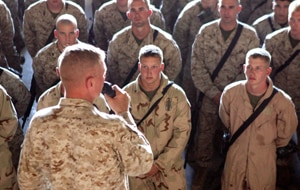 Alva, a 13-year Marine veteran, stepped on a landmine. He was blown into the air, breaking apart his right arm. His left leg was a mess of mush.

"One of my first thoughts was about two new guys in my unit," Alva recalled. "They were only 18 and 19, and all I could think was how scared they must be seeing all the blood, hearing all the screaming and realising this was all for real – we were really in a war."

The unit's medic, Brian Alaniz, was in Iraq because he had been unable to afford the school fees to train as an Emergency Medical Technician. Instead, he'd joined the US Navy to learn skills. After the mine exploded, he quickly ran to the aid of Alves, who would be officially recognised as the first US casualty of the war.

But Alaniz would be the second when another landmine blew him up too.

Alva (and Alaniz) would be later awarded a Purple Heart, a medal presented to those who have served in the US Military and been killed or wounded.

Right about now is probably the time to introduce the fact that Alva is also openly gay.

Last weekend, the controversial "Don't Ask, Don't Tell" rule in the US Military was effectively repealed by US Congress. The bill requires sign off from military chiefs and the President for it to be legal to be gay and in the military but that is expected to be paperwork formality.

The old law more or less meant that recruiters could not ask if a solder might be gay and neither should a soldier "admit" it. If they did, they could be discharged. Many were.

Another Purple Heart recipient is Senator John McCain, beaten by President Obama in 2008 and the man who effectively created Sarah Palin. Much of McCain's 2008 campaign was built on his Vietnam War service and time as a prisoner of war.

McCain has been a vehement opponent of repealing the DADT policy. On Saturday, as Senators continued debate, and it looked more likely a repeal would pass, McCain made his final bid to fight change.

"Today's a very sad day," he said, taking the Senate floor.

"The Commandant of the United States Marine Corps says when your life hangs on the line, you don't want anything distracting… I don't want to permit that opportunity to happen and I'll tell you why. You go up to Bethesda Naval Hospital, Marines are up there with no legs, none. You've got Marines at Walter Reed [Medical Center] with no limbs."

McCain was more or less quoting the commander of the Marines, General James Amos, who claimed gay servicemen and women might be distracting to their colleagues – as if the first thing on any soldier's mind in the middle of a hectic firefight is whether they might score a quickie behind the ammunition sheds.

"He literally took my Purple Heart and threw it in my face," Alva said of Amos' comments. "To say that there are distractions that could cause deaths or even loss of limbs for people for knowing that there are openly gay men and women serving in the military is just unbelievable."

But McCain insisted: "The policy has been working and I think it has been working well."

Others who have battled "Don't Ask Don't Tell" include National Guard Lieutenant Dan Choi, an Arab linguist, graduate of West Point Military Academy, and an Iraq war veteran. Choi was discharged after he admitted (on national TV no less) he was gay.

The policy didn't really work well for West Point cadet Katherine Miller either. Miller was an exceptional cadet whose performance at West Point was off the charts but who says she had to fabricate a personal history and endure sexual harassment in order to fit the current system and culture.

Rather than lie, she quit and has enrolled at Yale instead.

"I never took my personal life to work," Alva has said.

"Many members in my unit knew I was gay — and this simple truth never once came in the way of our ability to do our job. It didn't stop Navy corpsman Brian Alaniz from heroically coming to my aid after I stepped on a landmine…

"Since then, we have stood by each other — literally — as we learned to walk again with our new prosthetic legs."





top
Comments (5)
Join the discussion
About this Blog
Matthew Hall presents a first-hand look at world events from a different angle. Follow @Matthew_Hall

Matthew Hall New York-based writer Matthew Hall has chased fugitives across Texas, been shot in outback Australia and has lunched with Liza Minnelli.

TV
Food
Films
Documentary
World News Australia
Sport
About SBS
Business
Internet and Technology
Cycling Central
Festival Reports
Tour De France