Year of the Sparrow
14 January 2011 | 0:00 - By The Broom Wagon
Another season turning means it's time for the Port Adelaide Cycling Club to lift a migrating Sparrow from relative obscurity into the spotlight.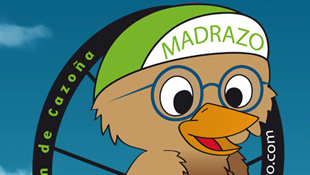 French neo pro Arthur Vichot was the man picked by the Port Adelaide Cycling Club at last year's Tour Down Under and subjected to a barrage of goodwill.


The Francaise des Jeux rider became the unwitting star of the PACC's '
Operation: Support an Obscure Pro
'. This involved his being besieged from time to time in Adelaide by fans in 'Allez Vichot!' t-shirts, and having his name painted over some of South Australia's best bits of tarmac.
This year's instant cult hero (
just add Facebook
) is Movistar youngster Angel Madrazo.
Madrazo, 22, joined Movistar's previous incarnation Caisse d'Epargne in 2009, stepping up last year to ride the Montreal Grand Prix and Giro di Lombardia.
Where Vichot looked a bit like Frodo, Madrazo, as a PACC member pointed out, looks a lot like
McLovin
from Superbad. Nicknamed 'the Sparrow of Cazona', he comes readymade with his own
website
and
sparrow logo
and appears not to speak English.
Unfortunately for the PACC, on arriving in Australia the Sparrow picked up the flu and has since been confined to his nest.
"I am powerless," Madrazo chirped weakly on his website. "But I hope to recover as soon as possible and be back on the bike to compete in these big races in Australia."
Several dozen owners of t-shirts with 'the Sparrow of Cazona' emblazoned across the chest hope so, too.
Disappointment of the month
Team Leopard-Trek's much anticipated squillion-dollar launch failed to fulfil the Broom Wagon's two predictions by featuring
scarves but not snoods
, and no actual leopards.
Things you used to be able to rely on
Birds not falling from the sky
. Eight minutes elapsing on the east coast of Australia without a rainstorm. Brian Henderson reading you the news in warm grandfatherly tones that told you that even though the half-hour wouldn't end without a bridge, Ponzi scheme or celebrity collapsing, things were more or less going to be all right.
In cycling, there was Jeannie Longo.
Longo, 52, is the grandmother of women's cycling. She has been a fixture at every Olympic Games since Los Angeles 1984. Since 1979 she has won 13 world titles on road and track, four Olympic medals, plus 57 (!) French national titles. Australians may remember her for being the woman whose tactical blunder allowed Kathy Watt to slip away and win the women's road race at the 1992 Barcelona Games.
In recent years, Longo has competed less while becoming an interestingly solitary figure. Reportedly hating chemical disinfectants, she lives on a mountain above Grenoble with a flock of goats and rarely travels without her own water filter, de-ioniser and supply of organic carrots.
This week Longo told Le Parisien she could not get excited about the new year. Even the thought of the 2012 London Olympics didn't do much for her, and she was
thinking about retirement
.
"I feel that it frightened me more last year," she said of retirement, but perhaps also the prospect of staying in hotels cleaned with disinfectant. "I am perhaps more philosophical this year. I see new horizons. What seemed unthinkable, like not training one day, I accept that much better."

Dispatches from the Twitterverse
Oh well, at least half of the team are happy with the results of the cricket. -
@simongerrans
Buninyong is a really top of the range road circuit but a bit change would be great. Sydney, Brisbane, Adelaide every second year? -
@bdlancaster
Enough with the complaining about Aussie Nationals circuit. @mattgoss1986 is a sprinter and still got around! @leighhoward1 looked good too! -
@mickrogers
Goodbye hairy legs, it was fun. -
@wegelius
Frozen bottles on a long ride feels hard core. I bonked today... terrible feeling! My sister is healing my wounds with a bowl of soup. -
@BenKing89
Just bought some really good vegetables and fruit. -
@stevendejongh

Classic YouTube
In the 2007 Giro d'Italia, Mexico's Julio Alberto Perez Cuapio takes an opportunity gifted to few and seized by fewer: to jab Leonardo Piepoli in the backside with a devil's fork.
top
Comments (1)
Join the discussion
About this Blog

The Broom Wagon
TV
Food
Films
Documentary
World News Australia
Sport
About SBS
Business
Internet and Technology
Cycling Central
Festival Reports
Tour De France