Awards spotlight Wall St corruption
01 March 2011 | 7:19 - By Matthew Hall
Besides the occasionally bizarre, possibly high, hours-long squint by co-host James Franco during the Academy Awards, the only vaguely interesting moment came when Inside Job was awarded Best Documentary Feature.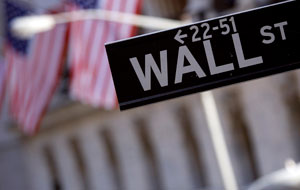 Director Charles Ferguson began his acceptance speech by reminding the theatre and TV audience that "three years after our horrific financial crisis caused by massive fraud, not a single financial executive has gone to jail, and that's wrong."

Murmur, murmur, murmur, went the audience, not knowing whether to applaud, boo, or ignore the sudden seriousness tossed into a throwaway night.

But according to the Federal Bureau Of Investigation, who should know about these things (massive fraud, not necessarily the Oscars), judicial inaction is not from want of trying.

Janice Fedarcyk, the head of the FBI's New York Office, said in a recent briefing that crime possibly linked to the 1998 Wall Street meltdown remains a priority for her agents. Threats from terrorism, however, may have forced Wall Street a few points down the agency's to-do list.

"White collar [crime] is certainly a priority for us," said Fedarcyk, asked specifically about the lack to date of any charges against bankers.

"As it relates to the New York office, we have a very robust allocation of resources, because at the end of the day, we have a lot of issues that we need to address relative to white collar crime, be it public corruption, insider trading, securities fraud, corporate fraud, healthcare fraud."

Which could mean a few things. Either, investigators did not find any evidence of crime, investigators have not yet found any evidence of crime, or investigators really are busy elsewhere.

At the beginning of each year, the FBI sets out a list of investigative priorities. In New York – surprise! – terrorism tops its concerns. Also on the list: transnational organised crime and violent gangs.

"The FBI will allocate the vast portion of its resources, the majority of its resources, to the terrorism arena," explained Fedarcyk.

"But that does not mean that that is the only priority that the FBI has. White-collar crime is also at the top of our priority list for the FBI as a whole. And underneath that broad dimension, we talk specifically about economic crimes such as mortgage and insurance fraud, in addition to corporate and securities fraud, healthcare fraud, and public corruption."

The FBI can claim recent successes in counter terrorism and against organised crime and gangs, especially in the New York area. But unravelling Wall Street's tight knot is still a work in progress.

"As you can imagine, all of these types of crimes can have an impact on our economy, not just domestically but internationally," said Fedarcyk. "And certainly, when we talk about public corruption, the impact and the erosion of public trust is an area of great concern for us in that area."

And so we wait for an ending. A blockbuster Hollywood ending rather than a (with due respect) bleak independent portrayal of crime in Melbourne as seen recently in Animal Kingdom, the film that earned Jackie Weaver an Oscar nomination.

An ending where the bad guys get caught.










top
Comments (4)
Join the discussion
About this Blog
Matthew Hall presents a first-hand look at world events from a different angle. Follow @Matthew_Hall

Matthew Hall New York-based writer Matthew Hall has chased fugitives across Texas, been shot in outback Australia and has lunched with Liza Minnelli.

TV
Food
Films
Documentary
World News Australia
Sport
About SBS
Business
Internet and Technology
Cycling Central
Festival Reports
Tour De France