Troy Davis case fires up debate
27 September 2011 | 7:16 - By Matthew Hall
The waiting, it has been said, is the hardest part. So it was that Troy Davis waited 22 years to be killed by the state of Georgia. The final few hours might have been the most difficult.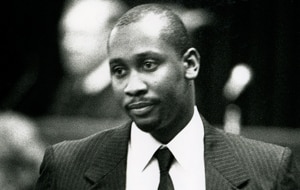 Davis was executed last week in a high profile, highly controversial, case. He was sentenced to die in 1991, convicted of the murder of police officer Mark MacPhail in Savannah, Georgia. MacPhail, an ex-Army Ranger, had been making ends meet working as a part-time security guard at a Burger King restaurant.

Those details pretty much everyone agrees on but the rest is hotly disputed. The prosecution's version of events, which won out in court, say Davis shot into a random car early in the evening of August 19, 1989, hitting a passenger. He later met a buddy in the parking lot a Burger King restaurant shares with a Greyhound Bus terminal.

The friend was arguing with a homeless man about a beer. Sometime over the next few minutes the homeless man was being pistol-whipped by an attacker. MacPhail came to his aid but ended up being shot in the heart and the face.

Cops and the court believed Davis, who maintained his innocence to his own death, did it. On the other side, a murder weapon was never found, ballistic evidence was later discredited, and witnesses later recanted their testimony. Yet appeal after appeal failed.

Davis faced his first execution date in 2007 but was granted a 90-day stay by the Georgia State Board of Pardons and Paroles. In 2008, he received two more stays as his legal team further protested innocence. He won a Federal hearing but a judge said: "While Mr. Davis's new evidence casts some additional, minimal, doubt on his conviction, it is largely smoke and mirrors."

Lining up in Davis' corner were a long line of well-known names including Pope Benedict, Archbishop Desmond Tutu, former President Jimmy Carter, former prison wardens and William Sessions, the former head of the FBI.

No good. On September 21 Davis was scheduled to be executed by lethal injection at 7pm. Again, he won a very last-minute reprieve from the US Supreme Court who agreed to again look at the case. Four hours later, the court declined the appeal and green-lighted his death.

Davis was wheeled into the execution chamber a little before 11pm. He was asked if he had any last words. He said he wanted to address the present members of the MacPhail family.

"You think I've killed your father, your brother, your husband," he said. "I'm not the person. I'm innocent. What happened was not my fault. I did not have a gun that night. I did not shoot your family member. I'm so sorry for your loss, I really am. I hope you will finally see the truth and others will, too."

As a reporter present described: "Davis looked out at the crowd, and though he seemed calm, it did appear he was somewhat scared."

Davis blinked. The waiting was over. He closed his eyes and was injected with a three-drug cocktail by an employee of a company that was paid $18,000 for their services. Within 14 minutes he was dead amid a swirling controversy of whether there was too much doubt in his conviction and firing up death penalty debate.

Some believe justice was served.

Others believe an innocent man was executed and the real killer remains free.

Davis now has no care for the answer. Let's hope the state of Georgia got it right.




top
Comments (1)
Join the discussion
About this Blog
Matthew Hall presents a first-hand look at world events from a different angle. Follow @Matthew_Hall

Matthew Hall New York-based writer Matthew Hall has chased fugitives across Texas, been shot in outback Australia and has lunched with Liza Minnelli.

TV
Food
Films
Documentary
World News Australia
Sport
About SBS
Business
Internet and Technology
Cycling Central
Festival Reports
Tour De France