#Occupy critics missing the point?
18 October 2011 | 10:22 - By Matthew Hall
A friend complained on Saturday night she was irked by the Occupy Wall Street protests. I was intrigued and puzzled. The reason? One, she explained, was that the protesters were against capitalism before adding that they also appeared to be for saving whales, the environment, and pro abortion rights.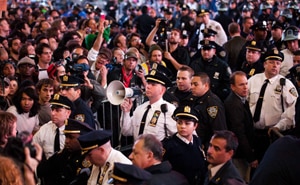 I could understand the confusion over some of the issues so, for the sake of the discussion, gave Wall Street a free pass on its role in the fate of water-friendly mammals, trees, and the pro-or-otherwise life movement.

But 'capitalism'? This was the reason, she said, that immigrants came to the United States. The C-Word. This was an interesting perspective particularly because versions of capitalism saw this particular friend thousands of dollars in debt for her university education, working countless hours to make a livable wage that includes enough money to pay her parents' rent after a bank repossessed the family home. She also needed enough money to pay the family medical bills and chip in a little change after the father's lifetime business went bust.

This was not an impoverished family that was struggling to escape housing projects but a hard-working immigrant family, trying to eek out a middle class existence in the leafy suburbs of New Jersey. When Wall Street crashed in 2008 so did their world. But the American Dream is still alive - if a little wheezy.

But it turned out she wasn't necessarily against the issues, just the point of protesting against a behemoth. The protests wouldn't change anything, she said, and the big corporations would continue to screw the little guys for profit.

Sigh.

Maybe Citibank's weekend highlights the frustration people feel. On Saturday a group of protesters entered a Greenwich Village branch of Citibank and demanded to close their accounts. What exactly happened next remains somewhat disputed but bank employees dialled 911 to summon police. Not just that - doors were locked, trapping customers (and protesters) in the bank. Police made arrests. Citibank copped a massive PR fail and released a statement blaming police, not the bank, for throwing their (former) customers in jail. Call me old-fashioned but when you dial the emergency number and call for the cops, serious stuff usually happens next. Blaming the police is a little disingenuous.

You can see a video of the protest and the arrests here.

Then, on Monday, Citigroup announced a profit of $3.8 billion. According to analysts, that's a 74 per cent increase in profit from a year ago. This is the same Citigroup that copped two bail outs from the federal government a few years ago. It claims to still be struggling - but I can think of some people in New Jersey who would take a $8 billion profit. The comparison is off the mark on paper but not in the mind.

Occupy Wall street. What's the point, indeed. But, then again, as people on the street continue to stay out and get arrested while attempting to shut their bank accounts, some people are not suffering in silence. Which is the point.




top
Comments (7)
Join the discussion
About this Blog
Matthew Hall presents a first-hand look at world events from a different angle. Follow @Matthew_Hall

Matthew Hall New York-based writer Matthew Hall has chased fugitives across Texas, been shot in outback Australia and has lunched with Liza Minnelli.

TV
Food
Films
Documentary
World News Australia
Sport
About SBS
Business
Internet and Technology
Cycling Central
Festival Reports
Tour De France