Irony: Marine veteran gets shot in the head. By cops in Oakland
01 November 2011 | 16:54 - By Matthew Hall
We could talk about the continuing social protests across the United States or perhaps we could talk about the weather.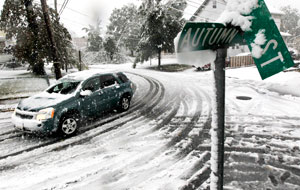 It snowed in New York on Saturday. Real snow that settled and covered the city in a white blanket prompting Mayor Bloomberg to send ploughs into the street. In October. Before Halloween. This was an event apparently unprecedented in the city's recorded history.
This freak phenomena (it usually shouldn't snow until the New Year -- which is why a White Christmas was often just a dream for Bing Crosby) should have edged the Occupy Wall Street crowd away from Zuccotti Park but controversial events on the other side of the country kept the cause in the headlines.

The protests would essentially be nothing if not for media coverage and oddly it has been the actions of law enforcement that has maintained the rage. A month ago, it was a New York cop pepper spraying a screaming female protester that provided momentum for the cause. In Oakland, California, last week, it was cops firing tear gas at protesters -- one in particular -- that caused outrage.

Scott Olsen, 24, is a war veteran who served two tours of duty in Iraq with the Marine Corps. But last week, in Oakland, protesting Olsen was shot in the head apparently by a police tear gas cannister and now lies in a hospital bed with brain damage unable to talk. He has given a friend a thumbs up but otherwise communicates by writing notes on paper.

This video on YouTube recounts the incident and suggests very questionable behaviour from the Oakland police.
If Olsen had been unscathed there would have been no real story to jump on but, as in New York, the incident gave a bump to the national cause.

If you are trying to placate the crowd, and not provide it with more motivation to protest, the advice would be: don't shoot individuals, whether with pepper spray or a tear gas cannisters or flash bang grenades. They really hurt. Oh, and the protesters? With Olsen as an example, they are not all jobless hippies.

Like in New York, it was a policing blunder that turned Occupy Oakland from a bunch of disgruntled mob into a galvanised group with a genuine grievance and widespread support. You do not -- repeat: DO NOT -- shoot at a veteran on the American streets he was once defending from terrorists. Americans don't do irony much but this incident was one time they unwittingly and tragically did.

top
Comments (2)
Join the discussion
About this Blog
Matthew Hall presents a first-hand look at world events from a different angle. Follow @Matthew_Hall

Matthew Hall New York-based writer Matthew Hall has chased fugitives across Texas, been shot in outback Australia and has lunched with Liza Minnelli.

TV
Food
Films
Documentary
World News Australia
Sport
About SBS
Business
Internet and Technology
Cycling Central
Festival Reports
Tour De France