Meet Paul Ryan
15 August 2012 | 7:18 - By Matthew Hall
Mitt Romney announced his Vice Presidential running mate on Saturday morning on the deck of the USS Wisconsin, a retired World War II battleship that is now a museum.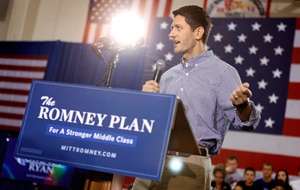 Music from the film "Air Force One" played. People clapped and cheered.
"Join me in welcoming the next president of the United States, Paul Ryan!" Romney announced.
Well, that's one way to introduce your vice presidential choice – with a gaffe. But we move on.
Ryan's elevation to the Republican ticket has variously been described "surprise", "bold", a "game changer", and "fake".
It has also been called "risky". As students of risk management know, one of the only times you take risk is when something needs to be changed. In Presidential politics, that's when you're losing. As numbers guy Nate Silver explained in the New York Times on the weekend:
"When a prudent candidate like Mitt Romney picks someone like Representative Paul D Ryan of Wisconsin as his running mate, it suggests that he felt he held a losing position against President Obama. The theme that Mr. Romney's campaign has emphasised for months and months — that the president has failed as an economic leader — may have persuaded 47 or 48 or 49 percent of voters to back him, he seems to have concluded. But not 50.1 percent of them, and not enough for Mr Romney to secure 270 electoral votes."
The role of Vice President is more important than the "Vice" may give credit for. The old line that a VP is a heartbeat away from the top job certainly rings true. There's significant responsibility and voters have to be able to see the second-in-charge as the person, possibly, in charge.
That was one significant reason why Sarah Palin, who pitched herself as an Alaskan "Mama Grizzly" who never reads newspapers, was a bizarre choice for 2008 candidate John McCain. Palin was a significant factor in McCain frightening off the independents he needed to defeat Barack Obama.
History may prove that Paul Ryan is an equally odd choice. At 42, he has barely worked outside of the big government he is opposed to. He's rich, white, Catholic, and a Tea Party pin-up boy. Not that there's necessarily anything wrong with that but it's amusing that President Obama is the closest to an Ivy League educated WASP that both tickets have to offer.
Briefly amusing, that is, when right wing crazies who will vote for Romney and Ryan consider Obama to be a Muslim Socialist who was not born in the United States and is therefore ineligible to be President. Oh, and Donald Trump thinks that, too.
In other words, the Romney-Ryan ticket is a bold choice for its bold representation of what the Republican Party stands for in 2012. Ryan is also known for his love of Ayn Rand, a 20th-century libertarian author of novels "The Fountainhead" and Atlas Shrugged" and a philosophy that centered on the idea that selfishness is "virtue."
When you throw in Paul Ryan's economic plan, the very thing that won him attention out of his home state of Wisconsin, then the deal is sealed. Romney's tactics have been to avoid specifics but Ryan's economic plan is very specific. It cuts defense, infrastructure, education, food safety, social security, and food stamps while not cutting taxes for the superrich. In fact, Romney has admitted that under Ryan's economic plan the would-be President will pay zero tax.
At its bare bones, the proposition appears clear: Greed is good. In fact, greed is very good. This is great for the election. Romney has pitched his stall. Now, the fence sitters get to make their clear choice.



top
Join the discussion
About this Blog
Matthew Hall presents a first-hand look at world events from a different angle. Follow @Matthew_Hall

Matthew Hall New York-based writer Matthew Hall has chased fugitives across Texas, been shot in outback Australia and has lunched with Liza Minnelli.

TV
Food
Films
Documentary
World News Australia
Sport
About SBS
Business
Internet and Technology
Cycling Central
Festival Reports
Tour De France