Romney's team begins to implode
18 September 2012 | 7:35 - By Matthew Hall
There are eight more weeks of this election to go and Mitt Romney has yet to jump out of his box and demonstrate exactly how and why he is a better alternative as President than Barack Obama.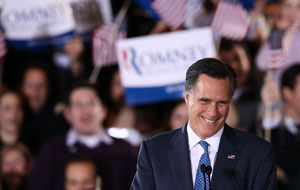 Any expected jump from the Republican convention never happened. Any expected flip following the Democratic convention didn't gain traction. For states that Romney must win, he's either tied or behind in polls. Similarly, voters claiming they will vote for Romney are doing so because they're anti-Obama rather than pro-Romney.

It can be argued that any vote for Romney is a step toward the White House but it's not a sentiment for enough change to win on November 6. The Romney campaign is now under immense pressure to deliver in the next eight weeks. Right on cue, out comes a story detailing his team's internal implosion.

"Inside the Campaign: How Mitt Romney Stumbled" sees Romney's chief strategist Stuart Stevens gets sliced and diced by others from the candidate's team of insiders and advisers. They are now beginning to distance themselves from what appears an increasingly doomed campaign.

Romney appears to be snatching defeat from the jaws of victory. He can beat a pretty big drum on the economy and knock Obama off any pedestal the incumbent tries to climb up on. If it really is "about the economy, stupid" then Romney is stupid for not making that the number one, two, three, four, five, six, seven, eight, nine, and ten issues.

But any opportunity to rise to a Presidential level and Romney stumbles. The latest move was last week's dabble in foreign policy. This is an area where Romney appears so far out of his depth it's a surprise he doesn't take briefings wearing Floaties.

Telling the Brits on a visit to the UK that their Olympics were on the verge of disaster prompted the eloquent people at The Sun to call Romney "Mitt The Twit". On the same trip, Romney then became the first person to ever pick a fight with both Palestinians and Israelis.

It was a real-life crisis last week, when the US consulate in Benghazi was attacked and four Americans were killed, that Romney had a chance to step up and behave like a President.

It was, instead, an embarrassing major fail.

"It's disgraceful that the Obama Administration's first response was not to condemn attacks on our diplomatic missions, but to sympathize with those who waged the attacks," Romney said in a statement that politicised the attack and subsequent four deaths in which the sensible consensus is that Obama and his administration handled the situation appropriately.

According to the New York Times, Romney "showed an extraordinary lack of presidential character by using the murders of the Americans in Libya as an excuse not just to attack Mr Obama, but to do so in a way that suggested either a dangerous ignorance of the facts or an equally dangerous willingness to twist them to his narrow partisan aims."

That kind of criticism won't end Romney's White House ambition in isolation. But it's no wonder there's infighting within his campaign as his failure to make the most of opportunities to be Presidential descends into the mire.

The upcoming debates are the last roll of Romney's dice.




top
Comments (9)
Join the discussion
About this Blog
Matthew Hall presents a first-hand look at world events from a different angle. Follow @Matthew_Hall

Matthew Hall New York-based writer Matthew Hall has chased fugitives across Texas, been shot in outback Australia and has lunched with Liza Minnelli.

TV
Food
Films
Documentary
World News Australia
Sport
About SBS
Business
Internet and Technology
Cycling Central
Festival Reports
Tour De France