SBS Food Guide to Poultry
4th July 2011 | 04:28 AET
Poultry (predominantly chicken) makes up a large part of the Western diet, but how much do we really know about the different types and methods of preparation?
In this guide, you'll learn more about duck, geese, turkey, quail and pheasant, plus the best methods to prepare them. You'll also learn how to cook the perfect roast chicken and prepare restaurant-quality duck confit from scratch.
When cooking poultry, always try to incorporate a new technique or ingredient. Your culinary skills (and those who you cook for) will benefit from your willingness to take poultry further.
Launch player
Overview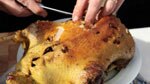 We reveal everything you need to know about cooking domestic fowl.
More
Poultry recipes