SBS Food Guide to Slow Cooking
4th August 2011 | 11:36 AET
Little compares to a hearty stew, bubbling quietly over low heat, with perfectly tender vegies and meat that dissolves in the mouth.

In this guide, you'll discover which national dishes rely on long, unattended cooking; how this humble technique has recently turned gourmet; and which tools will help you easily prepare slow, sensational meals using just a handful of ingredients.

The SBS Food Guide to slow cooking will rekindle your love for comfort food that's simple, easy to prepare, and good for the soul.


Launch player
History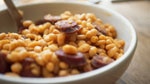 Many national dishes rely on the traditions of slow and steady cooking.

More
Slow cooking recipes
Featured Food & Recipes
Hot Tips
More
Making a cartouche
A cartouche is a circle of baking paper placed on top of a dish to prevent it forming a skin or drying out. To make a cartouche take a square of baking paper slightly larger than your pan, fold in half and in half again, keep folding the same way so that one corner remains the centre point of the paper. When you have folded it over a few times cut off the edge to form a circle.
Glossary
More
Pak Choy
Pak choy and baby pak choy are tender vegetables with pale green stems and darker green rounded leaves.