SBS Food Guide to Curry
13th September 2011 | 10:30 AET
Once synonymous with India and its neighbour Sri Lanka, curries actually form an important part of Japanese, Indonesian, Caribbean and, of course, Thai cuisines.

And making one at home, actually pounding the spices to create an aromatic paste and the base of your meal, will only heighten one's appreciation of this universally loved technique.

In this guide, you'll find a modern recipe using a classic Australian curry powder, learn how different cultures appreciate curry, discover the ins and outs of Thai curry pastes, and chef Jackie Shonquist reveals her recipe for roti canai.


History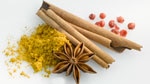 Once upon a time in Australia, curry meant only one thing: Keen's.

More
Curry recipes
Featured Food & Recipes
Hot Tips
More
Bubble and Squeak
Incorporate cold leftover vegetables from a previous meal (traditionally the Sunday roast) into bubble and squeak. Chop vegetables (and cold chopped meat if you have it) and combine with mashed potato. Fry the fritters until the mixture is well-cooked and brown on the sides.
Glossary
More
Sweet Paprika
Sweet Paprika made from sweeter, milder varieties of capsicum. It has a good depth of flavour and also adds a vibrant colour.