SBS Food Guide to Salads
12th October 2011 | 03:07 AET
Far too often, salads are viewed as mere token side dishes, thrown together to help us virtuously eat our greens and reach those five serves a day. But salads can be entirely satisfying main courses in their own right.

In this guide, we look at ways to expand one's typical notion of a salad; learn the signature salads of the Middle East, Vietnam, Italy and more; and show you how to enjoy no-lettuce salads with ingredients like quinoa, fregola and barley. In short, we're out to prove salads are anything but boring, so get ready to elevate yours from humdrum to heavenly.


How to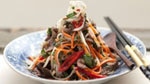 Food writer Amanda Vallis learns how different cultures interpret salads.

More
Salad recipes
Featured Food & Recipes
Hot Tips
More
Clean barbecue with lemon
Cut a lemon in half and spear it onto the end of your tongs. Use the exposed lemon to clean the grills of your barbecue as it is heating up. The acid in the lemon makes this a very simple yet effective cleaning tool.
Glossary
More
Cannoli
A Sicilian pastry consisting of a deep-fried dough tube and traditionally filled with sweetened ricotta and candied fruits and peel.