The fate of Italian street food
21st February 2012 | 12:07 AET
In Italy, the consumption of food is a ritual that lasts from morning to night. Much of this consumption takes place outside the home, on the streets, and most of what is eaten is snack food, or merende. Eating food in the street has been normal for the poor of Italy for centuries, primarily because they had no access to cooking facilities at home.

Street foods today are sold from restaurants, kiosks, market stands and stalls, and vehicles like ice-cream vans. The range of street foods consumed now in Italy is vast and, naturally, differs from region to region: in Puglia it is raw seafood; in Marche lambs' innards; in Emilia-Romagna you will find the classic piadina (a type of filled pancake) as well as a fried gnocco filled with the region's salami. In Tuscany you find cecina, a chickpea cake and panini filled with lampredotto (tripe) in Florence, while in Rome, kiosks sell sandwiches of the famous porchetta (roast suckling pig). In Cagliari in Sardinia, it is traditional during the summer to consume ricci di mare (sea urchins) at kiosks along the seafront, before lunch. In Palermo, Sicily's capital, pani ca' meusa (a bread roll with veal spleen, thought to be of Jewish origin) is sold at stalls outside nightclubs in the early hours of the morning. During the day stallholders at the market sell boiled octopus, stigghiole alle brace (grilled innards of goat, lamb or veal), as well as sfincione, the Sicilian version of pizza, panelle (chickpea fritters), cazzilli (potato croquettes) and arancini (risotto balls).

But the most renowned Italian street food of all must be pizza. Worldwide, flatbreads have always been a basic food of the poor, and at first the Italian version, pizza, was simply a bread dough made with lard – filling, portable and cheap, and despised elsewhere. But in Naples it gradually acquired toppings, principally tomato (after the fruit became popular only a couple of centuries ago). It is amazing how this humble Neapolitan food has become so famous, and how many different types there are now.

Memories of street food in my home village of Minori are very vivid. My friends and I actually became sellers of street food, collecting prickly pears in the summer to hawk along the seafront! There were also small stands selling snails cooked with garlic, chilli and parsley, wrapped in paper. During the winter, stalls sold roasted chestnuts, sofritto, a mixture of offal, served on hunks of good country bread, and at Christmas and on feast days there were zeppole (doughnuts). Although the street foods of my childhood still exist today, there are definite changes taking place in Italy, especially in the larger towns and cities. The globalisation of eating habits and the proliferation of fast-food chains are beginning to threaten traditional street food. There are pockets of resistance, however: in the small town of Altamura in Puglia, a McDonald's was forced to close in favour of a traditional bakery!

Immigration too is having an effect on Italy's food culture and traditions in general. From being a country of mass emigration, Italy has over the last 20 years received many immigrants, with some 7.5 per cent of the population now coming from abroad, and these immigrants are having an effect on the food. Turkish and Middle Eastern kebab houses are appearing in cities like Milan and Rome, as well as Chinese and Indian restaurants. Even sushi is on offer! For younger Italians this type of food is a novelty and a welcome addition to the foods of their childhood. For the older generation, it is a different story and the majority would not dare try anything new such as a kebab. Unfamiliar ingredients are also appearing in Italian markets, such as ginger, and traditional recipes are subtly changing as they are incorporated.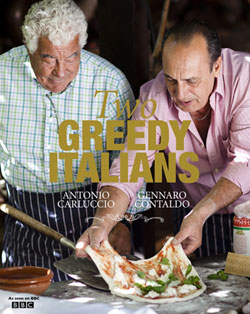 Italians are very conscious of these changes and there are movements which are desperately trying to protect the future of traditional street foods. Books have been written, as have countless newspaper and magazine articles. A cultural association, Streetfood, has been set up to promote awareness of traditional foods, and organises events throughout Italy such as the International Street Food Festival in Cesena. After all, street food is indelibly linked to the history and traditions of the country, the diverse culinary culture and diverse ingredients of each region and often offers the most truly authentic flavour of a city or region.

This is an edited extract from Two Greedy Italians by Antonio Carluccio and Gennaro Contaldo (Hardie Grant Books, $39.95).


Recipes
PLEASE NOTE: All submitted comments become the property of SBS. We reserve the right to edit and/or amend submitted comments. HTML tags other than paragraph, line break, bold or italics will be removed from your comment.
Featured Food & Recipes
Hot Tips
More
Indonesian meals
There's an art to eating an Indonesian meal. It all starts with rice and then you add small amounts of curries and other dishes like sambals and pickles to add an extra bit of heat or a burst of sour crunch. Its fun to eat with your hands - use your right hand or a spoon and fork. If you've been invited to an Indonesian home, come hungry - Indonesians are incredibly generous.
Glossary
More
Garlic Chives
Garlic chives (he) are dark green flat chives with a garlic flavour and aroma.