WIN* one of 10 Food Safari cookbooks
13th February 2013 | 11:05 AET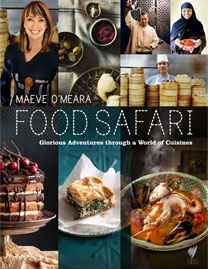 To celebrate the series return of Food Safari, airing tonight at 7:30pm on SBS ONE, we're giving you the chance to win a copy of Maeve O'Meara's latest cookbook, RRP $39.95, featuring the recipes from the previous Food Safari series.

In this paperback edition, food author and presenter Maeve O'Meara introduces 180 recipes from 34 cuisines in an irresistible celebration of culinary culture. Food Safari takes you on a culinary adventure across the world, exploring ingredients and making the exotic familiar.

Watch the all-new Food Safari teaser

Competition opens Thursday 14 February 10am (AEDT).
Competition closes Wednesday 27 February 11:59pm (AEDT).
Competition drawn Thursday 28 February at 9am (AEDT).

Enter your details below to go into the running. Winners will be notified by email. Read the terms and conditions.

Authorised under NSW Permit No. LTPM/12/00447 Class: Type C; ACT Permit No. ACT TP 12/02152. Promotions under these terms in conditions will commence on 11/7/2012 and finish on 11/7/2013.


Featured Food & Recipes
Hot Tips
More
Seasoning cast iron
Seasoning a new cast iron frying pan will help to keep it in good condition and help to avoid odours and flavours sticking to the pan. Coat the inside of the pan in oil and place in a hot oven for 30 - 60 minutes. Allow it to cool before wiping it clean.
Glossary
More
Eschallot
Eschallot are comprised of a cluster of golden papery-skinned bulbs, eschallots have a more delicate and sweeter flavour than their onion relation and are one of the many examples of the French influence in Mauritian cuisine.