What in the world are you eating?
The Australian Food Bloggers' Conference 2010
24 March 2010 | 1:01 - By Phil Lees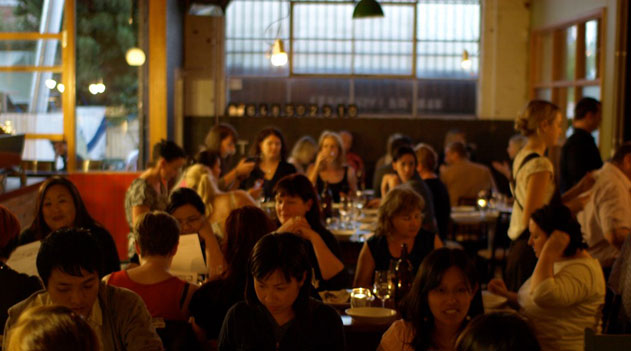 Somewhere in the evening I agreed to officiate on the eating of semi-fertilised duck eggs.
The duck eggs complete with embryo are popular around Southeast Asia – known as balut in the Philippines, trung vit lon in Vietnam and poeung tea koun in Cambodia. They are boiled then served with a squeeze of lime, Vietnamese mint, salt and pepper, generally by a vendor with a simple aluminium steamer. Most of Southeast Asia considers them a nourishing roadside snack.
The eggs are however the most viscerally confronting food on earth and there is no hiding the sensation of biting into a gelatinous, semi-formed beak.
How I ascended to officialdom in such matters is beyond me as are the rules by which one should preside over such an event – I'm hardly the biggest balut aficionado – but this is the sort of outcome that you might expect when you get fifty Australian food bloggers in the same room. Last Sunday was the first Australian Food Blogger's Conference and until we hit dinner, there was surprisingly little talk of food itself, fertilised or otherwise.
Bloggers had gathered in Melbourne to talk through the technology, craft, ethics and reason behind blogging about food. Like the eggs, food blogging in Australia is at once embryonic and confronting; popular and nourishing to some, misunderstood by others.
Over the past five years, the number of food blogs has grown into the hundreds. The Age Newspaper quoted the number as 659 without attributing a source. Few are older than five years and the proliferation of channels other than blogs like Twitter or Facebook continue to blur the boundaries of where blogging and food writing lie.
Very early on in the conference, it was apparent that there is no single reason to start a food blog.
Some started one to keep convenient, personal and searchable cook's journal; to have one's edible predilections reaffirmed by friends, family and random strangers from the internet; to be part of a food-obsessed community that, as blogger Zoe from Progressive Dinner Party put it was "a decent and civil thing to do" so as not to continually bug their partner with food talk. Some use it to fill a gap left behind by the traditional media in Australia and cover food with a depth not delivered elsewhere.
Very few start them with a commercial imperative in mind, a point that seems to bewilder otherwise sensible magazine editors.
It is impossible to encapsulate all of the reasons in a simple narrative which is what makes food blogging confronting: how can mainstream media compete with sources that don't play the game predictably or have no interest in playing at all?
For more coverage of the conference from attendees see:
Confessions of a food nazi
Jeroxie (addictive and consuming)
My Aching Head
Progressive Dinner Party
Ravenous
Travelling in Mary Janes (part 1)(part 2)
The Age
Twitter coverage at #eatdrinkblog
top
PLEASE NOTE: All submitted comments become the property of SBS. We reserve the right to edit and/or amend submitted comments. HTML tags other than paragraph, line break, bold or italics will be removed from your comment.
Featured Food & Recipes
Hot Tips
More
Creme Caramel
When making the caramel for Creme Caramel, put the water into the saucepan first then pour sugar into the centre of the water, not at the edges. This will prevent crystals forming.
Glossary
More
Gai Lan
Gai Lais also is also known as Chinese broccoli and has thick mid-green stems. A very popular vegetable dish in Chinese restaurants, simply steamed and served with oyster sauce.