What in the world are you eating?
Taste of Melbourne 2010
30 August 2010 | 14:35 - By Phil Lees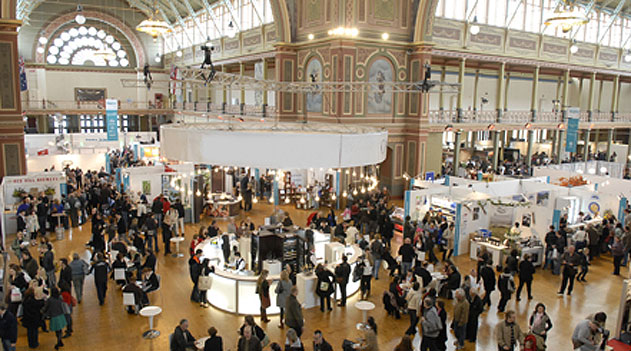 I ate a donut from the van in front of Footscray station on the way to Taste of Melbourne, the food-focused show that visits Melbourne towards the end of each winter. The van, named Olympic Donuts, may possibly have been parked to the side of the Footscray Station since the last time that the Olympics visited Melbourne but judging by the sheer funkiness of font used in the sign, the last time that the van received a fresh coat of paint was the late 1970s.
Food from a van was probably a suitable entree to the Melbourne food event, because it shared uncannily similar principles. The restaurants exhibiting at Taste of Melbourne serve up fancy van food. The setup of your average donut van is a good parallel – the restaurants sit at the show for a few days, have an extremely limited menu and bear little to no resemblance to restaurants. Some food is perfect for it - anything that you can cook by the drum and pour into a Bain Marie or deep-fry and eat with one hand. Yes it has pretensions otherwise, but the best of Taste of Melbourne is about carnival food.
Does the food do the restaurants justice?
You can't judge it using the same time-honoured standards: there is no service and few tables; your cutlery is plastic and plateware is paper. The menu is distilled in the extreme – three to four dishes per restaurant and it is unlikely that you'd be keen to eat all three. There is nary a salad to be seen - a vegetarian might want to pack their own lunch if they're not in possession of an extreme sweet tooth or serious drinking habit.
Given the carnie vibe, I started with The Palace's Wagyu Burger – not so much a burger as an Australian version of the slider - with a thin slice of beetroot and cheese. Wagyu burger is the perfect way to repackage all of those ends, offcuts and fat from a restaurant's other wagyu dishes. Given the diminutive size, this is probably the most expensive burger that I've ever eaten by weight and ended up tasting beefy but a bit on the dry side.
The European's Wild rabbit sausage roll with tomato kassundi (an oily, Indian fresh pickle). Flaky pastry with soft, juicy rabbit and fennel mix inside.
Mezzo's pork cheek topped with, relish, ground dried peas(?) and pistachios was the highlight of the show for me. It's a cut of meat that I love and this one was cooked until it broke apart at the lightest touch. Others had reported getting a tougher serve; mine was perfect.
Yellow curry from Longgrain wasn't memorable or bad; plenty of coconut and chilli, but nothing much else.
Stokehouse's Wagyu beef cigars, artichoke tapenade and horseradish reminded me of American 7-11 taquitos – much, much classier of course, but the same concept of putting meat in a tube and deep-frying. It's hard to go wrong with deep fried meat.
At this point, I fell into a meat stupor. I wandered aimlessly amongst the small producers. I picked at some golden syrup icecream from Gundowring Fine Foods and had a glass of Dal Zotto Prosecco (not exactly the best match, but from loosely the same region in Victoria). I was spent.
Once again I was joined by a crew of Melbourne bloggers to attempt to eat everything that was on offer. Between the five of us, we managed to tick off every restaurant on show but maybe fell short of eating every single dish. Their coverage is at:
top
PLEASE NOTE: All submitted comments become the property of SBS. We reserve the right to edit and/or amend submitted comments. HTML tags other than paragraph, line break, bold or italics will be removed from your comment.
Featured Food & Recipes
Hot Tips
More
Festive occasions
Many of Poland's religious holidays involve long observed fasts, including Easter and Christmas. Christmas Eve is a day of fasting, which is broken by a dinner called the Wigilia. Traditionally, this special meal is not eaten until a member of the family, usually a child, spots the first evening star in the winter sky.
Glossary
More
Yam or Bean Sargot or Bung Kwong
A pale brown tuber, yam bean has a white, crisp and slightly sweet flesh that is used most notably in popiah, a type of spring roll or finely sliced in rojak. (Also known as jicama).