What in the world are you eating?
Dealing with the zucchini mountain
24 February 2011 | 1:56 - By Phil Lees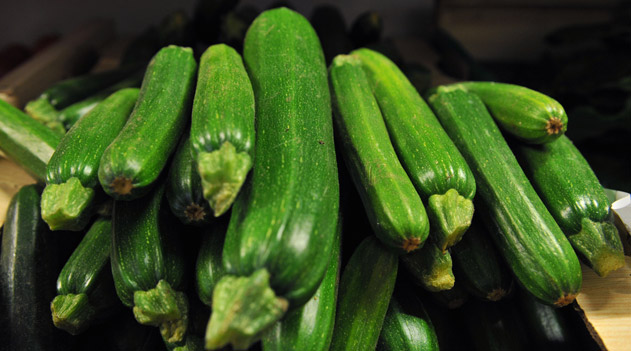 The strongest memory I have of eating homegrown vegetables from my childhood summer is facing up to interminable weeks of zucchini and its less popular cousin, the choko. There is no pleasure in it, just the memory of overboiled, greying mush and vegetables left on the vine until they were roughly the size of your leg. Now I'm inflicting this seasonal terror on others.
Thanks to the ludicrous weather delivered by the season masquerading as summer in Melbourne, I've hit a mark just shy of growing all of the fruit and vegetables that I need to eat on a day-to-day basis. I'm still convinced that this will be a once off, freak occurrence; the one year that the weather conspires in my favour to deliver food on time. For all the locally grown cred, I still eat bananas and buy comical fruits from the Tropics whenever they go on special at my local market, so I'm not the most hardcore of locavores.
Mastery of home vegetable gardening is not really about delivering mountains of food, but manipulating the garden so that the food ripens at a predictable pace. It's not a skill to which I can lay claim. The seasonal booms certainly help if the plan is to preserve fresh food for the grim months ahead, but, if you're not prepared to spend multiple weekends boiling down your produce, it is mostly left to turn to grey slime in the crisper.
I have managed to grow a small mountain of fresh tomatoes – not enough to preserve tens of kilos for a year's worth of bolognaise – but too many to avoid the chore of weekly processing. The pumpkins are starting to literally pile up. The zucchinis are about to approach the interminable point where there is nobody that I personally know who will accept them as a gift. You don't really gift zucchinis to others, you encumber people with them like a giant, edible millstone. This year, I'm growing Tromboncino zucchinis, a heritage variety which look less like trombones as the name suggests but grow into the metaphorically appropriate shape of a yoke.
As with any vegie you don't know what to do with, the answer is soup. SBS holds these other zucchini recipe tips:

Hide it in other unsuspecting meals. Zucchini is relatively neutral and can be concealed in practically any spicy dish – chopped into curries, sliced wafer thin into lasagne, shredded into hamburger patties. It gets into this recipe for the Cambodian stew samlor karkoo.

Pickles. Any vegetable can be pickled. Not every vegetable should be pickled, but it is at least a possibility.
top
PLEASE NOTE: All submitted comments become the property of SBS. We reserve the right to edit and/or amend submitted comments. HTML tags other than paragraph, line break, bold or italics will be removed from your comment.
Featured Food & Recipes
Hot Tips
More
How to store spices
Spices are generally at their best for up to a month, if stored correctly. Store spices in an airtight container in a cool, dark place. Humidity, light and heat will cause herbs and spices to quickly lose their flavour.
Glossary
More
Mooncakes
A sweet or savoury filled pastry made especially for the Chinese Moon Festival, held in autumn. Fillings can range from salty duck egg to sweet lotus paste or red bean. The pastries are stamped with Chinese characters or patterns.