What in the world are you eating?
Adventures in umami
05 October 2011 | 13:58 - By Phil Lees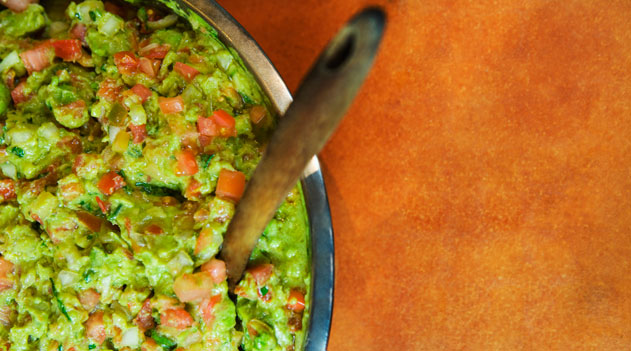 Can you make a fish sauce based cocktail? Adventures in umami

Last week was Guacamole Day; there is no prescribed way to celebrate it apart from heed to the avocado marketers various wonts. I'm almost certain that it is not a real day but can't find advice to the contrary.

As a recipe, guacamole has ancient provenance. The Aztecs were cooking well before the Spanish arrived in South America in the 1500s. At its simplest, the recipe is just avocado and a little salt crushed to a rough paste in a molcajete, an Aztec mortar and pestle made from basalt. The molcajete affects the flavour – the tiny bubbles in the volcanic rock from which the mortar is carved catch food from previous grinding that imparts the taste of prior meals, which is not altogether positive. Fresh tomatoes are commonly added in small quantities, and even though the dish does not taste much of tomato, they lend it a rounder mouth feel. This is because both tomatoes and avocados are good sources of glutamate, the cause of the delicious taste, umami.

Dishes that are heavy in umami flavours work best when you combine different sources of glutamate. Eating a pinch of straight MSG is awful and metallic, but, when added to stock, it makes meat seem richer. Traditional flavour combinations, like tomatoes and parmesan in Italian, or fish sauce and coconut milk in Thai, play on the multiple receptors for umami. For some reason, playing with umami seems more radical than other flavours: parmesan and coconut milk, or fish sauce and tomatoes sounds wrong, just because they're sets of flavours that culturally haven't been played with before.

Wherever there has historically been two or more foods that are rich in umami, like avocado and tomato in guacamole, you'll certainly find recipes that combine them. However, one of the few taste sensations that seems to be resistant to umami adventures is drinks. Yes, there are avocado smoothies throughout South America and Southeast Asia, but why no complex cocktails? Why not one based on fish sauce?

The first, obvious answer is that there is one – the Bloody Mary, and the Worcestershire sauce within it. Worcestershire sauce is fish sauce for English people. It's not as fishy as a Thai fish sauce, but the Bloody Mary isn't finished without it. This is because of the way that umami works: Tomatoes, especially the seed coatings, are rich in glutamate. Anchovies are a source of inosine monophosphate, which intensifies the sensation of umami, and so you end up with a more rounded, delicious mouth feel than with tomato juice or Worcestershire sauce alone. But if you rule out tomato-based cocktails, it gets much more difficult.

Aged whisky, brandies, sake and some wines are also high in amino acids and do have a detectable umaminess to them. So I tried asparagus, fish sauce and whiskey. It's not inedible – if you stir a stick of asparagus in whiskey, you can get a tiny hint of the umami without making it too strange, and a few drops of fish sauce can lend more smokiness to an already peaty drink. I wouldn't altogether recommend it.

top
PLEASE NOTE: All submitted comments become the property of SBS. We reserve the right to edit and/or amend submitted comments. HTML tags other than paragraph, line break, bold or italics will be removed from your comment.
Featured Food & Recipes
Hot Tips
More
Different paprikas
When using paprika make sure you are using the right variety for the dish you are cooking. The Spanish smoked paprika is ideal for paella, while the Hungarian sweet paprika is quite different in flavour and is ideal for their goulash.
Glossary
More
Beans
Beans (frijoles) - Pinto and Black turtle beans are the main types. Black turtle beans are used to make refried beans.