What in the world are you eating?
Raspberry explosion
16 November 2011 | 10:11 - By Phil Lees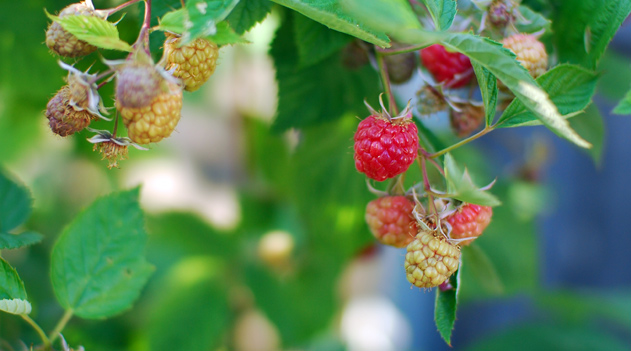 Modest and brilliant raspberries.

The taste of fresh raspberries picked straight from their canes is incomparable to those from a supermarket punnet. When fully ripe, the berries are almost tender enough to collapse under their own negligible weight. They fall from their canes at the touch, and burst sweet-sour on the tongue. When properly ripe, they're impossible to store for more than a day or two.

I planted two canes of two varieties last year – Willamette and Chilliwack – with the fairly impossible aim of providing a good four or five month window of berries from my suburban backyard. The spate of heat last year that provided a surfeit of incandescent tomatoes also burnt the Chilliwack canes back to bare stalks, never to recover. In theory, the variety that survived (Willamette) is meant to bear their main crop through the middle of summer. It was developed in a breeding program in 1943 in Oregon's Willamette Valley to extend the season for the fruit, but I'm not sure whether it is meant to extend to this early in the year. This year, they're in full fruit right now, so I'm guessing that the sheltered microclimate where they're wedged between the shade of my fruit trees and the fence is providing me an early boon.

The climate for raspberries in my patch is altogether less than ideal. To properly fruit, the canes require decent periods of temperatures below 7°C, which Melbourne rarely provides. Hot summer winds tend to wreak havoc on the fruit. Some commercial operations in Europe have started "long cane production", where canes spend the winter somewhere cool, like Scotland, and are then shipped to be grown in Spain over the warm summer months, which, as nice as it is for a plant to take a holiday, points out everything that is wrong with the industrial production of food.

Everything with wings will eat them and the plants need actual care: mulching, weeding, fertilising and watering, trellises, and trimming of canes at the correct height and seasonal interval. They're more a hobby than a plant. The best local guide to this process that I've found is New South Wales Department of Primary Industries Fact Sheet.

There aren't really enough canes to create surplus fruit. One of my gardening guides recommends 15 plants per person for regular decent feeds of fruit and seasonal excess for jams and preserves, which would cover a good half of my yard in delicious berries. At this time of the year, it seems almost worth it.

Here are SBS's raspberry recipes. I'd love to say that I had some use for them, but, as yet, all the raspberries have been eaten before they've made it to the kitchen.

top
PLEASE NOTE: All submitted comments become the property of SBS. We reserve the right to edit and/or amend submitted comments. HTML tags other than paragraph, line break, bold or italics will be removed from your comment.
Featured Food & Recipes
Hot Tips
More
Cooking beans
When cooking with beans (such as black beans or kidney beans), any acidic ingredients (lemon, vinegar, tomatoes or wine) should be added towards the end of the cooking, as the acid makes beans hard.
Glossary
More
Opaki-Paki
A mild, sweet Nigerian spice looking a little like a dried pod.