What in the world are you eating?
Foraging for dude food
30 November 2011 | 11:38 - By Phil Lees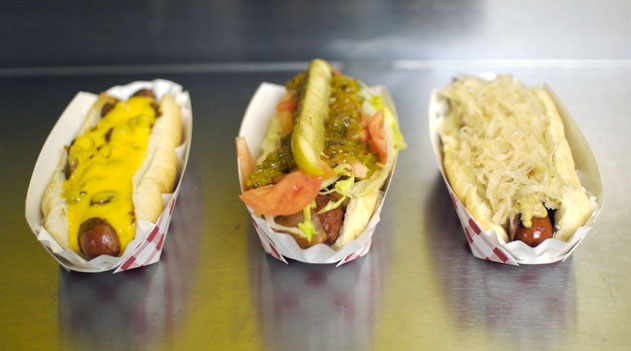 According to the Los Angeles Times, we're in nothing less than a mass-processed meat renaissance. The LA Times reports:
Los Angeles is in the midst of a hot dog renaissance, with a cluster of recent openings signalling a hunger for that most sentimental of meals: tender tubular meat in a bun covered with toppings, or naked except for mustard.

Like the burger before it, and in tandem with the current German sausage craze, the hot dog has gone gourmet, with restaurants taking it seriously enough to dream up all kinds of wild combinations. In addition to the tried-and-true, like Pink's and Tommy's dogs, diners can now nosh on the Sooo Cali at Dog Haus in Pasadena, which waters mouths with mixed greens, chopped tomatoes, tempura-fried onions, house-made spicy basil aioli and avocados; or the Vegan Weena, on the new hot dog menu at North Hollywood's Federal Bar, which is a meatless dog topped with chipotle, avocado, cilantro cream and tropical fruit salsa. Then there's the Picnic Dog at Pasadena's Slaw Dogs, which tops a humble grilled dog with barbecue sauce, onion, potato salad and a crisp pickle spear.
While I'm unsure whether the return of a processed meat tube to a place in high culture is comparable to the 14th Century revival of classical art and literature, it does point to an interesting trend in food that has come from the Global Financial Crisis: the desire to look thrifty while eating in public.
It's no great surprise that wider economic conditions drive certain trends in eating, from recession gardening to a greater interest in those "lost" culinary traditions, like preserving and smoking.
The yearning for diners to appear frugal is driving restaurant food in two opposing directions – one taking its inspiration from the processed foods of recent history, the other from a more ancient past.
The first trend is the elevation of hot dogs, hamburgers (plus their diminutive hipster companion, the slider) and anything that you can happily eat with one hand that comes direct to you from the deep fryer. The whole vogue for cheap food made expensive (and often from scratch) has been wrapped up as a media-friendly trend by the name of "dude food" to encapsulate anything that was designed to be eaten while pulling out from the drive-thru window, or meals that have moved from backblocks carnival fare to meals on respectable menus.
The second trend is the rise of foraging for food from the survivalist fringes to respectability. Its modern patron saint, René Redzepi, has recently established his own laboratory to research methods for furthering the appeal of foraged foods. From the New York Times:
Behind the chef's famously free-form approach is a highly studious investigation into the culinary possibilities of foraged ingredients. The El Bulli and French Laundry veteran has set up a non-profit called the Nordic Food Lab on a nearby houseboat to "create cornerstones for a new kind of cuisine," he says.

So what next? It's fairly unlikely that the two trends will find some point of convergence, as there's hardly the sort of nostalgia or even broad familiarity and appeal of foraged foods. Eaters certainly won't be weaning themselves off the deep-fryer anytime soon.

top
Blog Home
Previous Post
|
Next Post
PLEASE NOTE: All submitted comments become the property of SBS. We reserve the right to edit and/or amend submitted comments. HTML tags other than paragraph, line break, bold or italics will be removed from your comment.
Featured Food & Recipes
Hot Tips
More
Black Forest Cake
A pinch of salt in the chocolate, custard mousse mixture will bring out the flavour of the chocolate
Glossary
More
Herring
An oil-rich fish usually sold whole. Herring can be poached, fried or grilled as well as pickled, marinated, salted and smoked.