Cuban three-milks cake and guava pastries
06 December 2011 | 12:37 - By Alix Clark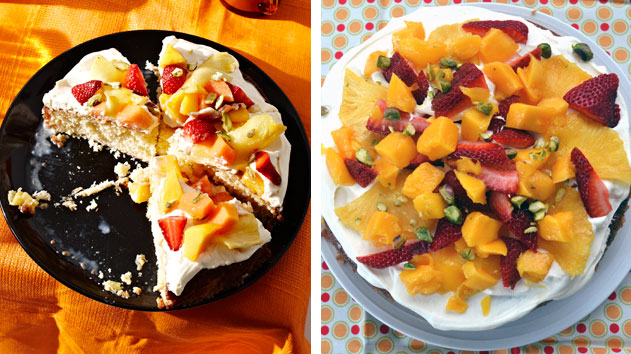 Hello readers. First up, apologies for my absence. There's really no excuse for being too busy to cook – what could be more important? I had grand plans to bake up a storm over the weekend, but these were somewhat derailed by a late-night fall that resulted in two toes at odd angles. The trip to the supermarket was promptly cancelled and wallowing ensued! Thank goodness, I'm now back on track and decided to tackle our glorious covergirl – the Cuban three-milks cake on page 70.

While that was getting underway – pineapple roasting in the oven – I decided to finally make use of the guava paste that has been sitting in my fridge since we shot our Brazilian film story, to bake the Cuban guava and cream cheese pastries on page 70. I've been feeling guilty about not putting the paste to use and was thrilled that it could make an appearance in this double post.
I stumbled at the first hurdle by not reading the recipe properly and added both eggs to the cream cheese – please, dear readers, learn from my mistakes! The situation was saved by draining off a bit of the egg and adding some more cream cheese. Then it was time to start assembling the pastries. I sliced up my guava paste and decided to have the tiniest nibble of it before tucking it under its puff pastry coverlet. Well! Let's just say that Sydney's guava paste stocks would have been much depleted if I'd known what deliciousness had been lurking in my fridge these past months. This stuff is oh so tasty and you must, must go purchase some immediately – if not to make these particular guava pastries (extremely more-ish… and Mr Ed did not limit himself to just the one), then just to enjoy little (or large) slivers when you're feeling peckish. But I digress.
The three-milks cake is not, as some friends of Feast thought, made up of cow's milk, goat's milk and buffalo milk but rather of regular milk, evaporated milk and sweetened condensed milk (and there's not much that doesn't get better with the addition of condensed milk). It's a simple cake batter that includes 5 egg yolks (I've set the whites aside for some meringue madness later in the week) and as it cooked, the smell took me back to my grandmother's cupcakes. She doesn't cook much anymore, but her cakes and slices were the stuff of school cake-stall dreams.
After baking, the cake is stabbed with a skewer, and the combined evaporated and condensed milks are then poured over the top. I must confess that I tend to be a little sceptical with syrup cakes like this – surely all that liquid isn't going to be absorbed. But I poured away and sure enough, five minutes later, there was no sign of it.
The cake was left to cool thoroughly before being topped with whipped cream, the roasted pineapple, mango, strawberries and pistachios. What's not to love? The result is a deliciously moist sponge that is definitely being added to my baking repertoire. Banana cake, your days are numbered.
If you try the three-milks cake from this issue of Feast, I'd love to know how you go, and I'd also be keen to find out your favourite uses for guava paste.
Happy cooking!

Editor, Feast
top
PLEASE NOTE: All submitted comments become the property of SBS. We reserve the right to edit and/or amend submitted comments. HTML tags other than paragraph, line break, bold or italics will be removed from your comment.
Featured Food & Recipes
Hot Tips
More
Berry Soup
Slowly cook a variety of berries to make a berry soup dessert. In Finland the stewed fruit is often thickened with a little cornstarch or potato starch.
Glossary
More
Spit Roast (Razanj)
Spit roasting is common all over Croatia - suckling pig, lamb and beef are slowly rotated and basted over gentle heat.