Laotian pork laap salad
23 January 2012 | 0:00 - By Alix Clark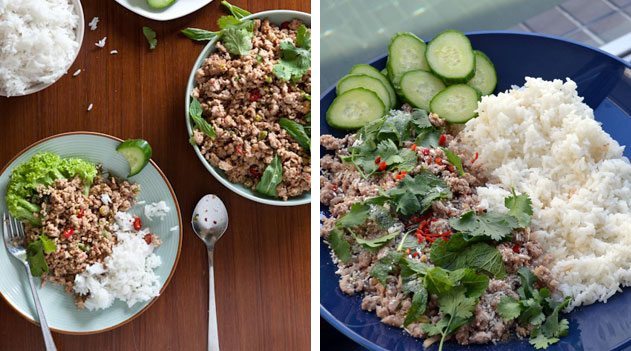 Given my druthers, I could quite easily live on salad. Not nasty, limp little side salads, but big butch ones with lots of ingredients, crunchy bits and plenty of protein to keep me feeling satisfied. I love them in all their forms and, whenever I visit the US, I love a bit of downmarket-diner dining for the Cobb salads, Chinese chicken and everything in between. So it was no contest when it came to cooking something for the blog – a main course salad. The only decision was which one to make.

As much as I love the orderliness of the Cobb salad ("Ingredients! Attenshun!"), I decided to go with the fresh flavours of the
Laotian pork laap
. It contains one of those mysterious ingredients that tastes horrible by itself, but wonderful when combined with other ingredients – fish sauce. Fish sauce is most commonly made from fermented anchovies, but other varieties can be used as well – I'm certainly no connoisseur, but I love the tang it adds to dressings and curries. The only unusual ingredient in this salad was the pickled krachai – a finger-like
rhizome
that's less pungent than ginger or galangal. Rather than a smell, this odd-looking ingredient actually has a perfume – divine! I've included a photo of it here so you know what to look for.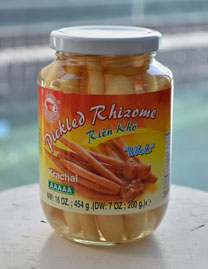 Now back to the task at hand: chopping was the main thing and a good reminder that my knives need sharpening. They do the job, but I'm sure it could be better – Feast's food editor, Ange, gave me the name of a knife sharpener who comes to your house on his motorbike and does it right there. Fabulous!
I toasted the glutinous rice and started pounding it in my mortar and pestle, but not much seemed to be happening except for small bits of rice flying everywhere, so I put it in my spice grinder for a quick whizz. I'm not exactly what the texture is supposed to be, but I got a range from coarse powder to a few full grains.
Pork mince cooked – easy. I saved a bowl by putting the dressing ingredients (lime juice, fish sauce and white pepper) straight in with the eschalots, chillies, krachai, etc. Seemed to work okay and doing so meant one less thing to wash up. I let the pork cool a little and then mixed it all together. Topped with a little ground rice and some fresh herbs and this was delicious. The recipe claims it serves four, but I'd say it serves one Alix (with possibly some leftovers for lunch). Yes, it was that good. Lucky for me, Mr Ed is not of the chilli persuasion, so I didn't have to share this at all. Score!
What's your favourite main course salad? And what do I do with the rest of the jar of krachai? I feel a food fix coming on.

Editor, Feast
top
PLEASE NOTE: All submitted comments become the property of SBS. We reserve the right to edit and/or amend submitted comments. HTML tags other than paragraph, line break, bold or italics will be removed from your comment.
Featured Food & Recipes
Hot Tips
More
What rice for what dish
Long grain rice has a long, slender kernel and cooked grains are separate, light and fluffy. Medium grain rice has a shorter, wider kernel than long grain rice. Cooked grains are more moist and tender, and have tend to cling together more than long grain. Short grain rice has a short, plump, almost round kernel. Cooked grains are soft and cling together.
Glossary
More
Jalapeno
A small green chilli pepper that is moderately hot. It has been named after Jalapa, the capital of Vera Cruz.