Kobeba (beef and cracked wheat slice)
08 February 2012 | 9:32 - By Alix Clark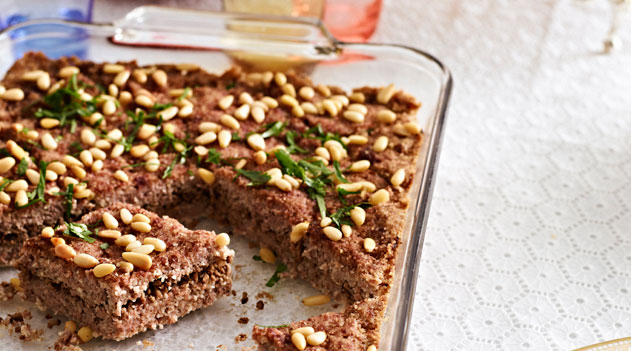 I'm mad for Northern African and Middle Eastern flavours at the moment. Well, not really at the moment, for quite a while now. Ever since I was lucky enough to attend a five-day cooking school in Morocco. Well, even before that – I would hardly have travelled all the way to Morocco if I wasn't pretty sure I liked the food. But that certainly sealed the deal. I loved the communal way of cooking (everybody's dinner cooked in the basement fire of the local hammam (bath house)) and the delicate spices that became robust dishes and flavours.

So when we featured Egyptian cuisine for our At the Table feature this month, I knew I'd be cooking it for the blog. Call me daggy, but I'm a big fan of mince and always have a kilo or two in the freezer. Just in case. So I was pretty much set for the
kobeba
– beef and cracked wheat slice. I was intrigued by the fact that this dish is beef, with a beef stuffing – a case of "too much is never enough"?
It's a simple dish and as I was cooking, I got into the mood by listening to
Natacha Atlas
– my favourite Arabian-fusion songstress (she was born in Belgium to parents of Moroccan, Egyptian, Palestinian and British background, speaks at least four languages, and has used all of them in the course of her career. Basically, awesome). Her version of Screamin' Jay Hawkins'
I Put a Spell on You
is fabulous and as the kobeba went into the oven, I was shimmying with the best of them.
I served the kobeba with the fattoush and some pita bread for a simple dinner, and it was perfect – the beef-beef combo was delicious and the two layers had slightly different textures and tastes. I think I've just added another easy mince dish to my repertoire!

Editor, Feast
top
PLEASE NOTE: All submitted comments become the property of SBS. We reserve the right to edit and/or amend submitted comments. HTML tags other than paragraph, line break, bold or italics will be removed from your comment.
Featured Food & Recipes
Hot Tips
More
Al dente
Al dente, literally "to the tooth", does not mean sticking to the tooth, rather that the pasta provides a little resistance when you chew it. The only way to tell is to taste the pasta as you cook it - don't rely on the packet instructions.
Glossary
More
Black Rice
A type of rice where the outer bran layer has not been removed. The raw grains have a charred appearance and when cooked, the grains are the colour of blackberries.