Indonesian skewers
05 March 2012 | 8:30 - By Alix Clark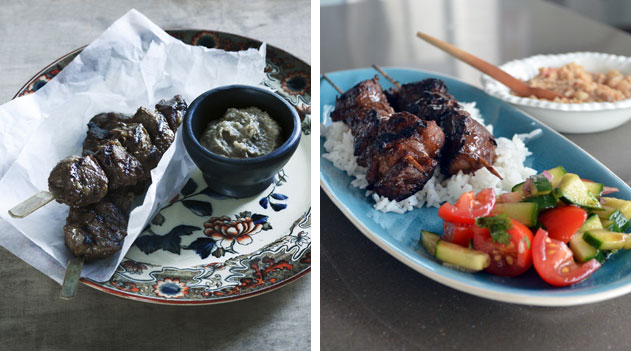 Still enjoying the last vestiges of a recent mini-break to Bali, I decided to recapture the moment at home with this recipe for Indonesian satay from the Food Safari mini cookbook that comes free with this month's copy of Feast. It had many of the hallmarks of recipes I like – meat, ingredients that I already had in the cupboard, and grilling (meaning that I could legitimately get Mr Ed to help with dinner). Those factors aren't the only things that attract me to a recipe, but they certainly help.

The marinade was easy to make – all I needed was the kecap manis. Sri, who gave the wonderful cooking lesson I attended at Hotel Tugu, told me that "manis" means sweet in Indonesian and that "kecap" is literally "ketchup". So, sweet ketchup it is and that forms the base of the marinade. I was a little concerned that the flavours were too simple, but, by the time we cooked them up (reminder to self, barbecue does have settings other than "extremely hot" and it would be nice to use them), they were delicious. Slightly sweet with just a hint of the onion and garlic. The peanut sauce was just as simple – I'm sure that Sri would have pounded them on her stone mortar by hand, but I used the blender and it worked just as well (though burned far fewer calories). In deference to Mr Ed's tender tastebuds, I used only one, de-seeded chilli. Left to my own devices, I would have used all three, complete with seeds, but domestic dinner-time harmony is important, so I just added chilli to mine when I served it. Again, simple flavours, but the lime juice gave it that little edge that had me eating this sauce by the spoonful before the skewers were cooked.
The flavours were very different to the Balinese fish sate that I'd cooked in Bali, but this dish is a great one to have in my repertoire. It would also work well if you grilled the meat without skewering it, and then served with toothpicks and sauce as party nibble. Nice!
What have you cooked after a holiday to recapture the vacation vibe?

Editor, Feast
top
PLEASE NOTE: All submitted comments become the property of SBS. We reserve the right to edit and/or amend submitted comments. HTML tags other than paragraph, line break, bold or italics will be removed from your comment.
Featured Food & Recipes
Hot Tips
More
What to look for in fresh fish
Seek out fish that have firm flesh, clear bulging eyes and a slimy texture - a sign that the last time they had contact with the water was when they were swimming in it (by dry-filleting fish you avoid bloating and any taint from chemicals such as chlorine).
Glossary
More
Chinese Cabbage
A large, frilly-leaved cabbage also known as wong bak.