Chocolate peanut butter brownie
19 March 2012 | 9:47 - By Alix Clark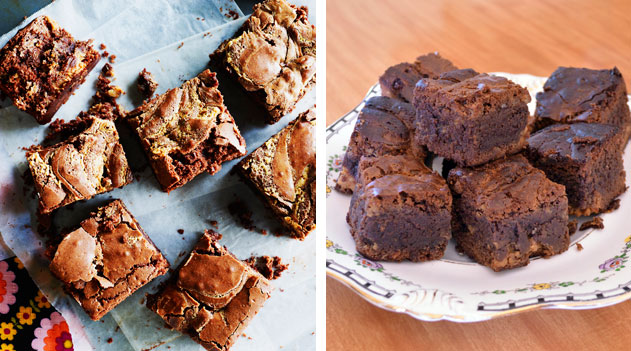 People have literally been stopping me in the street to rave about how much they loved the chocolate peanut butter brownie that's our April cover star. And by "street" I mean the corridors at work, and by "rave" I mean "RAVE". They're all mad for it – the taste, the texture and how easy it is to make. I had, ahem, tried this brownie during the testing and shooting process, but figured I'd better make for myself as well – my grandmother's 90th birthday this past weekend was all the excuse I needed (actually, I didn't even need that – it's always the perfect time to make brownies).

As with so many of Feast's recipes, this was really easy. In fact, starting in our next issue, we'll be flagging quick, simple recipes with a star symbol, so you'll know which ones to look for when time is an issue – we're calling them Everyday Feasts. I've made a fair few brownies in my time (and my sister does a mean raspberry cheesecake ripple version that has been my nemesis on more than one babysitting assignment), but I don't usually beat the eggs and sugar for such a long time. I used the whisk attachment on my mixer and really got it good and fluffy before adding the flour and chocolate-butter mixture. As is often the case, I made do with what I had in my pantry – 250g of peanut butter, rather than the 500g stated in the recipe. I adjusted the butter and icing sugar accordingly and didn't set any aside for sauce (grandmother's birthday party, including numerous great grandchildren, not the right environment for extra sauce). It melts really quickly so don't get too distracted by anything else. The peanut mixture swirled in beautifully and the mixture was so tasty that I may have licked a spoonful or two before forcing myself to put it in the oven.
My brownie was done in 50 minutes, rather than the hour stated in the recipe – I'm guessing partially because I had it high up in the oven, rather than in the middle. The edges got a little darker than I would have liked, but I trimmed them off before serving and don't worry, they didn't go to waste! The outer pieces had a delicious cake-like texture while the middle pieces had that wonderful fudge-like quality that's the mark of a great brownie. The amount of peanut butter was just right – enough for those who are peanut butter fans (my niece) as well as those who aren't (her brother). In a group whose ages ranged from 3 to 93, it was deemed a success. In fact, they all raved about it!
What's your favourite brownie combo?

Editor, Feast
top
PLEASE NOTE: All submitted comments become the property of SBS. We reserve the right to edit and/or amend submitted comments. HTML tags other than paragraph, line break, bold or italics will be removed from your comment.
Featured Food & Recipes
Hot Tips
More
How to tell your roast chicken is ready
Pierce the thigh of your chicken with a skewer to determine it is cooked through. This is the thickest part of the bird, and if the juices run clear (with no blood) you will know it is cooked.
Glossary
More
Pastizzi
Dozens of layers of flaky pastry filled with a variety of fillings, the most traditional being ricotta and mushy peas.