Noti's torte
02 April 2012 | 0:00 - By Alix Clark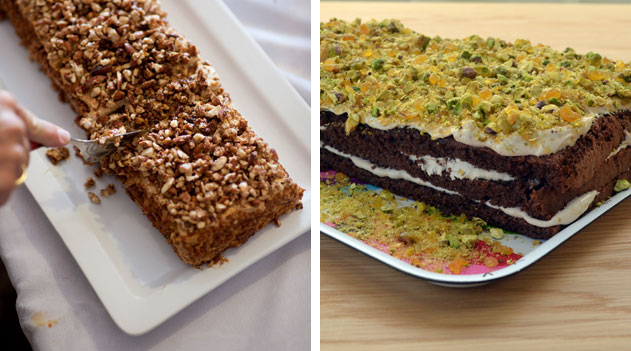 One of my favourite things about my job is getting the chance to attend family celebrations with people from a wide variety of ethnic and cultural backgrounds. It's such a thrill to be able to be a part of these special occasions – and the food is, without exception, fabulous. I recently attended a birthday party with the Kerestes family, who originally hail from Hungary. The meal was packed full of Hungarian flavours and the highlight was the cake that Noti, the family matriarch, has been making for years. I so enjoyed it on the night, that I thought I'd better try to recreate it at home.

I still have an enormous jar of pistachios left over from Christmas baking, so I used those instead of almonds for the praline. Mmmm, nuts in toffee – I almost stopped right there – but managed to push on with the cake. Dedication! The cake is basically a chocolate sponge – lots of egg beating – both yolks and whites. Keep things light and remember to fold the whites in with a metal spoon that will cut through the mixture, rather than beat it into submission. The cooking time was correct and I let it cool thoroughly before cutting into horizontal layers. I found the best way to do this was with a bread knife – I made my way all around the edge of the cake, only cutting in a couple of centimetres at first. That then gave me a solid line to work with when I cut right through the cake – much easier than trying to slice right through on the first pass. Repeat, to create three thin layers of cake.
Now, for the goodness. All the layers came together with the cream and praline – with loads of praline on top – and even though I was tempted to dive in right then, I put it in the fridge overnight and brought it into work the next day. Two words – massive success. The cake was extremely popular and had non-Feast staffers asking when they could have the recipe. Always a good sign!
What was your grandmother's signature cake or slice?
top
PLEASE NOTE: All submitted comments become the property of SBS. We reserve the right to edit and/or amend submitted comments. HTML tags other than paragraph, line break, bold or italics will be removed from your comment.
Featured Food & Recipes
Hot Tips
More
Festive occasions
Many of Poland's religious holidays involve long observed fasts, including Easter and Christmas. Christmas Eve is a day of fasting, which is broken by a dinner called the Wigilia. Traditionally, this special meal is not eaten until a member of the family, usually a child, spots the first evening star in the winter sky.
Glossary
More
River Mint
A native Australian mint.