12 hour lamb with pistachio tabouleh
11 April 2012 | 17:02 - By Alix Clark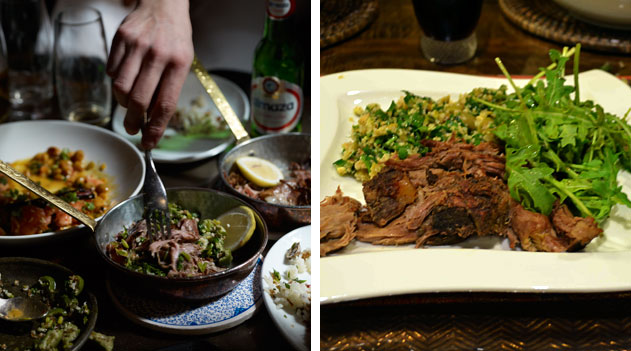 I love cooking first thing in the morning. This weekend found me in the kitchen at 7am on Saturday, gathering ingredients for a banana cake. That was followed by setting a bolognese a-simmering and pork ribs a-braising. It was all systems go. So Shane Delia's 12 hour lamb with pistachio tabbouleh was a perfect addition to the early morning mix.

I marinated the lamb the night before and had taken great delight in pounding the garlic into submission with my mortar and pestle. I discovered at the last minute that I didn't have cumin seeds, and so substituted ground cumin. A plague of pantry moths is wreaking havoc with my store cupboard staples at the moment! The recipe specifies lamb shoulder, but my local supermarket only had a leg and I didn't have time to run to the butcher, so figured I'd make do with a leg instead. Food editor Ang tells me that the leg contains less fat than the shoulder so will generally be a little drier. I did find this to be case and the fault is entirely mine.
The lamb went into a very slow oven. And was basically done. I checked on it a few times throughout the day and basted the meat as juices formed, but, otherwise, this was the ultimate low-involvement dish. Love it. I took the meat out after about 11 hours as it pulled off the bone easily and was very tender. And extremely delicious. Fork shredding ensued and there may have been some nibbling on crusty bits at that stage as well, even though we had just arranged to take the whole shebang over to the neighbours' for dinner. The pistachio tabbouleh was simple to put together, and burghul may be my new couscous (if those pantry moths don't get there first). A last-minute drizzle of dressing and we were on our way next door for an impromptu dinner party.
I loved this dish – it was simple and, for a meat-lover like me, the meltingly tender lamb was a treat. I'll have to follow instructions and make with a shoulder, not a leg next time! And the neighbours? Well, they happily took the leftovers off my hands.
Do you like slow roasts or fast stir-fries?
Happy feasting!

Editor, Feast
top
PLEASE NOTE: All submitted comments become the property of SBS. We reserve the right to edit and/or amend submitted comments. HTML tags other than paragraph, line break, bold or italics will be removed from your comment.
Featured Food & Recipes
Hot Tips
More
Storing potatoes
Store potatoes in a cool, dry, dark place. Avoid purchasing pre-washed potatoes, as dirt protects the vegetable from the elements during storage.
Glossary
More
Thick Caramel Sauce
Thick Caramel Sauce is even more viscous than dark soy, this is used to add a depth of colour and flavour to many dishes. Surprisingly, despite its name, it is not sweet.