Irish soda bread
04 May 2012 | 10:33 - By Alix Clark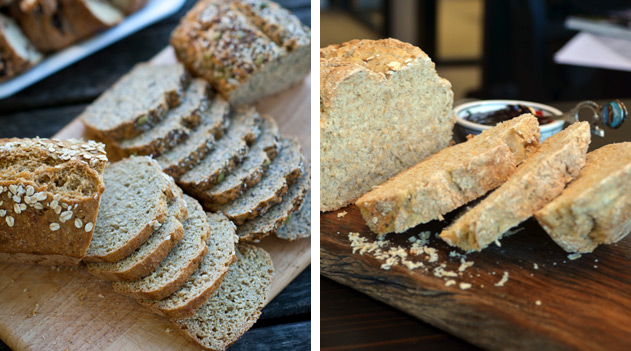 I seem to be surrounded by soda bread all of a sudden. First, we received a care package of soda bread and raspberry jam from Paddy the Baker (he's one of the Irish expats in this month's Celebrate story) that had the Feast team in paroxysms of delight. Who knew that toast and jam could be this good (and collectively we've eaten a fair bit in our time)?

Then, I stumbled across a recipe for Irish cheddar and bacon soda bread on the Homesick Texan that instantly went into my "must try this at home" list. I'm a sucker for cheese, bacon and bread separately – put them together and it's all over! Another morning of tummy-rumble-inducing food blog browsing turned up a gorgeous post by Farmette on Irish brown bread that made me instantly want to marry an Irish farmer, move to Ireland and start baking – until I remembered that I have my own wonderful Mr Ed, who patiently endures all my food talk and willingly tries new things even though he'd really much prefer going to the pub for a steak.

Anyway, all this soda bread happening in my universe meant I had to cook the soda bread that featured in the Irish Brekkie Club story this month. I couldn't find any stoneground wholemeal flour at my local health food shop – although they had every other possible permutation of flour – so I substituted the regular stuff. I was keen to add some seeds to the mix (Paddy's loaf had seeds in it and, even though I was picking them out of my teeth for hours, they were delicious!), but I couldn't get the lid off the jar of sunflower seeds so had to shelve that idea. The dough came together while I was grilling some marinated chicken for dinner – a recipe from one of my favourite blogs right now: Dinner: A Love Story – and was ready by the time the washing up was done.

Miraculously, I managed to resist having a slice while it was still warm. Instead, I brought it into the office for the Feast team. All that's remaining is crumbs! This bread has a lovely dense texture (I'm not a fan of fluffy breads), and the only adjustment I'd make is to add a little more salt. It tasted great with both raspberry jam and my current avocado and Vegemite combo (don't judge!) – so versatile.
If you've steered clear of baking bread because it seemed too time-consuming, you should definitely give Irish soda bread a shot. What type of bread do you like to bake?

Editor, Feast
top
PLEASE NOTE: All submitted comments become the property of SBS. We reserve the right to edit and/or amend submitted comments. HTML tags other than paragraph, line break, bold or italics will be removed from your comment.
Featured Food & Recipes
Hot Tips
More
Adding vegemite to gravy
Adding a tablespoon of vegemite while you are making gravy will impart the smoky, meaty flavour into the sauce.
Glossary
More
Fish Herb
Fish herb (Diep Ca & Cang Cua) is considered by some as an acquired taste as it has a definite fishy smell and flavour. Often used in soups.